Find this product on Logos.com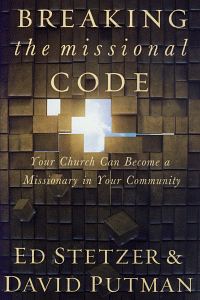 Breaking the Missional Code
Your Church Can Become a Missionary in Your Community
Product Details
Breaking the Missional Code by Ed Stetzer and David Putnam is a clarion call for the churches in the United States to act among their local communities as missionaries would in a foreign land. For in fact, the message of Jesus Christ is still foreign to many who stand in the shadows of American steeples. As our approach to outreach changes, so can countless lives in our own backyards.
About the Authors
Ed Stetzer has planted, revitalized, and pastored churches for over twenty years. He has trained pastors and church planters on five continents, holds two masters degrees and two doctorates, and has written dozens of articles and books. Ed is a contributing editor for Christianity Today, a columnist for Outreach Magazine and Catalyst Monthly. He serves on the advisory council of Sermon Central and Christianity Today's Building Church Leaders, and is frequently cited or interviewed in news outlets such as USA Today and CNN.
Ed is Visiting Professor of Research and Missiology at Trinity Evangelical Divinity School, Visiting Research Professor at Southeastern Baptist Theological Seminary, and has taught at fifteen other colleges and seminaries. He also serves on the Church Services Team at the International Mission Board.
Ed's primary role is President of LifeWay Research and LifeWay's Missiologist in Residence. He has also written the following books: Planting New Churches in a Postmodern Age (2003), Perimeters of Light: Biblical Boundaries for the Emerging Church ( 2004), Breaking the Missional Code (w/ David Putman, 2006), Planting Missional Churches (2006), Comeback Churches (with Mike Dodson, 2007), 11 Innovations in the Local Church (with Elmer Towns and Warren Bird, 2007), Compelled by Love: The Most Excellent Way to Missional Living (with Philip Nation), and Lost and Found: The Younger Unchurched and Churches that Reach Them (with Richie Stanley and Jason Hayes, 2009).
David Putman currently serves as one of the pastors at Mountain Lake Church (MLC) in North Atlanta. MLC has grown to nearly 2000 in just over six years of existence. At MLC David's responsibilities focus on issues related to "growing" the church's impact in its community and around the world. David has been a part of MLC since prior to its inception. For him, this journey began 9 years ago when he moved into the rural Cumming, Georgia community and began praying for a new church. A founding member, he joined the MLC team in April 2004 to serve as Executive Pastor. David is passionate about what he is learning at a code-breaking church and keeping issues of the Gospel and culture close to everyone's heart.
Prior to joining the MLC Ministry Team, David served with the North American Mission Board where he was tasked with developing the Nehemiah Project, a church planting intern strategy, wha sich has launched hundreds of church planters into the North American Mission field.
In addition to the Nehemiah Project, David was tasked with setting the church planting strategy for the North American Mission Board, an organization that helps facilitate about 1500 church plants annually.
David planted his first church back in the late 1980's. Since then, he has coached hundred of church planters across North America. He is recognized as one of the catalysts of the current church planting movement.
In 1991 he was a contributing author to Church Planting at the End of the Twentieth Century, by Charles Chaney, writing the chapter, Getting Off to a Big Start. He served as one of the editors and authors of Seven Steps for Church Planting, one of the North American Mission Boards flagship resources. He is currently working on Breaking the Discipleship Code: Rethinking Discipleship in Today's Missional World.
Endorsements
It's books like this which give me hope for the future church.
Dr. Ed Stetzer is the best missional thinker in North America.
A must-read for anyone who wants to lead or participate in the transition from the program-driven model to a missional expression.
Ed Stetzer is one of the best-informed, practical minded, and field-tested Church planters that I know.