Find this product on Logos.com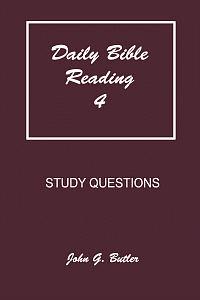 Daily Bible Reading (4) Study Questions
Highlights
Encourages reading through the Bible in one year
Book one of a five-book devotional series
By the same author of the Bible Biography Series
Product Details
This book is the fourth book in a five book devotional series entitled Daily Bible Reading by the author. The first book contained a synopsis of each day's Scripture reading. The second, third, and fifth books in this daily devotional series contain sermonettes from a verse selected from the Scripture reading of each day. This fourth book contains study questions from each Scripture reading.
These daily devotional books are intended to help and encourage people to read through the Bible at least once a year and to read the Bible with meaning and understanding. A daily habit of reading the Scriptures is vital to anyone who desires to have a vibrant spiritual life.
The book is divided into two parts. The first half of the book contains ten study questions for each day's Scripture reading. The second half of the book contains answers to the study questions. These questions are not only helpful for one's daily devotional reading but will also be found to be very helpful in classroom situations, such as Sunday School or Christian Day School, and in family situations of parents teaching their children the Scriptures.
The questions and answers in this book have been based on the KJV text. If you are using another translation, you may have to refer to the KJV text at times for some of the specific wording in the questions and answers.
About the Author
John G. Butler has been a Baptist minister for over half a century with "pastorates in Williamsburg, Ohio; Detroit, Michigan; Chicago, Illinois; and Clinton, Iowa. He is a veteran of the United States Navy, attended Tennessee Temple University and graduated from Cedarville University. Butler is also the author of the Bible Biography Series —a twenty-seven volume series about major Bible characters; and the Studies of the Savior —a ten volume series about Jesus Christ.