Find this product on Logos.com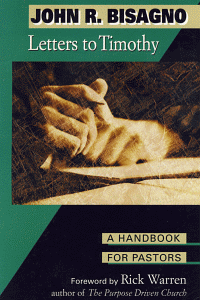 Letters to Timothy
A Handbook for Pastors
Highlights
Forward by Rick Warren
A Seminary Education in one volume
Product Details
After nearly fifty years in ministry, Letters to Timothy is John Bisagno's retirement gift to younger and older pastors alike. A voluminous and comprehensive work, it is full of useful advice to ministers covering the "things that might have fallen through the cracks in seminary." This book is a practical manual covering all aspects of pastoral life for clergy in churches of all sizes, locations, and denominations.
About the Author
John Bisagno is Pastor Emeritus of the 22,000-member Houston's First Baptist Church. His remarkable 30 years at Houston's First Baptist is summed up in Rick Warren's words: "There are some great pastors that excel in one particular area. But John has excelled at it all." It is precisely this multi-gifted aspect that propelled him to be a dynamic evangelist, compassionate shepherd, and strong leader. In addition to being nationally recognized as a popular and effective crusade evangelist and Bible teacher, he is the author of 25 books. Dr. Bisagno has spoken at the Southern Baptist Convention, the World Congress on Evangelism, and every major state convention and state evangelism conference.
Endorsements
My prayer is that an entire new generation of pastors and church planters will use this book to develop the neccessary perspective, convictions, character, and skills needed for ministry in the 21st century from this giant of the 20th century.