Find this product on Logos.com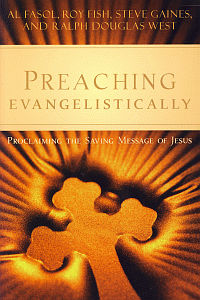 Preaching Evangelistically
Proclaiming the Saving Message of Jesus
Product Details
What is the point of preaching? With so many agendas competing for pulpit time these days, it can be easy to forget the exact purpose of our Christian calling—to proclaim God's salvation through Jesus who died and is now resurrected. Preaching Evangelistically looks at the different elements of gospel preaching and how they are best used to effectively proclaim Jesus. They include: sermon setting, text selection, preparation, preaching with biblical authority, giving an invitation, and "Hiding Behind the Cross As You Preach."
This book also includes three examples of evangelistic sermons from Al Fasol, Ralph Douglas West, and L. R. Scarborough.
About the Authors
Al Fasol is distinguished professor of preaching at Southwestern Baptist Theological Seminary in Fort Worth, Texas. He has taught at Southwestern since 1973. In 1961 Fasol pastored the Royalton First Baptist in Illinois and also served 18 months as interim pastor at Second Baptist Church in Little Rock, Arkansas. He graduated from Southern Illinois University and received his M.Div. and Th.d. from Southwestern Baptist Theological Seminary.
Roy Fish is a native of Arkansas with a bachelor's degree from the University of Arkansas. He earned both an M.Div. degree and Th.D. degree from Southwestern Baptist Theological Seminary in Fort Worth, Texas, where he has taught for forty one years and mentored thousands of Southern Baptist pastors.
He has authored five books and written numerous articles, primarily on evangelism, and has been a speaker for conferences, conventions and services across North America and around the world. He has been honored with several awards, including an honorary doctorate from Southwest Baptist University and the Charles G. Finney Award by the Academy for Evangelism in Theological Education.
Dr. John Steven "Steve" Gaines was born in 1957, in Corinth, Mississippi. He entered the University of Tennessee at Martin on a full football scholarship in the fall of 1975. At UTM, he began attending weekly meetings of the Fellowship of Christian Athletes. In the fall of 1977 he gave up his football scholarship to transfer to Union University, a Christian college in Jackson, Tennessee. In 1977, Gaines was licensed to the Gospel ministry by his home church in Dyersburg. After graduating from Union University in 1979, Gaines began studies for a Master of Divinity degree at Southwestern Baptist Theological Seminary in Dallas which he received in 1984 and his Ph.D. in 1991.
Gaines is currently serving at Bellevue Baptist Church in Cordova. Before arriving at Bellevue, Gaines pastored for 14 years at the First Baptist Church of Gardendale, Alabama. There he became one of the leading voices in the conservative wing of the Southern Baptist Convention. In 2004, Gaines was elected president of the Southern Baptist Pastors' Conference, and was the keynote speaker at the SBC annual meeting in Nashville. He served with Adrian Rogers on a committee charged with revising The Baptist Faith and Message. The document, which is the primary doctrinal statement for all SBC agencies, including its six seminaries and International Mission Board, was adopted by the SBC in 2000.
Ralph Douglas West holds a Doctor of Ministry degree from Samford University's Beeson Divinity School, Birmingham, AL; a Master of Divinity degree with Biblical Languages from Southwestern Baptist Theological Seminary, Ft. Worth, TX; and a Bachelor's Degree in Religion and Philosophy from Bishop College, Dallas, TX. Pastor West has also completed advanced studies at Cambridge and Oxford Universities.
West is the Pastor and Founder of Brookhollow Baptist Church, Houston, Texas. From its initial membership of 32, Brookhollow Baptist Church has grown into a thriving congregation of over 15,000 families meeting in three locations. Along the way, because of the broad reach of its ministries in the Houston metropolitan area and around the world, Brookhollow Baptist Church affectionately became known as "The Church Without Walls. "
Pastor West has lectured at institutions such as Princeton Theological Seminary, Morehouse College, and Samford's Beeson Divinity School. Pastor West also serves as adjunct professor of preaching at Truett Seminary in Waco, Texas. He is the author of Finding Fullness Again: What the Book of Ruth Teaches Us About Starting Over. In 2008, Dr. West released Left Alone, a powerful book on finding strength for life's mysteries, impossibilities, and uncertainties.