Find this product on Logos.com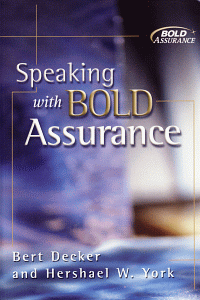 Speaking with Bold Assurance
Product Details
Whether preaching or witnessing, speaking is a critical communication tool in almost all facets of Christian life. This book brings the Bold Assurance concept to Christian leaders and laypeople, giving them a tool to help them use their minds, mouths, and beings to communicate effectively. Readers will learn the tools for powerful and effective communication based on two things: biblical truth and proven concepts from the business world. For the first time, Christian laypeople and leaders alike can reap the benefits of speaking boldly and skillfully by understanding how God uses us as communicators.
About the Authors
A true visionary, Bert Decker launched Decker Communications in 1979 to transform people's lives – and that mission remains the same today. Bert's passion for communications evolved from his early career as a successful filmmaker. After turning the camera on himself, he became keenly aware of the power of video feedback and the need for communications coaching. Since then, Bert has become a nationally recognized communications expert, appearing on the NBC TODAY Show several times, commentator on Presidential Debates, and featured on ABC's 20/20 and dozens of other print and broadcast media.
Bert is entrepreneurial to his core. In addition to speaking and writing, he is the founder of seven companies and organizations, Chairman of the Advisory Board of The Salvation Army, and fancies himself an early adopter of all things tech. Bert raised his three children in the Decker Method and is now working on his grandchildren. He and his wife Dru Scott live in San Francisco.
Dr. Hershael W. York has served as Buck Run's senior pastor since December 2003. He also is the Victor and Louise Lester Professor of Christian Preaching and Associate Dean of Ministry and Proclamation in the School of Theology of The Southern Baptist Theological Seminary in Louisville, Kentucky. During 2005 he led Kentucky Baptists as President and he continues to have an active presence in the Kentucky state convention. Preaching Today has included him among North America's most effective preachers and has featured his sermons in their monthly selections. He was a featured speaker at the 2007 International Congress on Preaching at Cambridge, England. His articles have appeared in many journals and magazines, and he is a popular conference speaker in the US, Europe, and Brazil. Tanya, his wife of twenty-seven years, is an engaging speaker at women's conferences, and they have two sons, Michael, 25, and Seth, 23, both preparing for a life of ministry.
The son of missionary parents, Dr. York has a heartbeat for missions and serves as a trustee of the International Mission Board of the Southern Baptist Convention. He has ministered in Brazil each of the last 13 years and is involved in church planting strategies in South and North America. Under his leadership Buck Run has increased its missionary presence in Europe, Africa, South America, as well as, domestic ministries in Louisiana and Kentucky.
He holds a B.A. in English and Classical Civilizations from the University of Kentucky, where he also earned a Master of Arts in Classical Languages. He received a Master of Divinity and also a Doctor of Philosophy in Greek and New Testament from the Mid-America Baptist Theological Seminary in Memphis, Tennessee. His previous pastorates include the First Baptist Church of Marion, Arkansas, and the Ashland Avenue Baptist Church of Lexington, Kentucky. He formerly served as the Preaching Associate Pastor at the Highview Baptist Church in Louisville, as well as numerous interim pastorates.
Endorsements
Speaking with Bold Assurance is a tremendous help for anyone who has a passion to effectively communicate what is on their heart to others.
Bert Decker has the rare ability to lift ANY communicator to a higher level. What a gift!
Speaking with Bold Assurance could well have been titled "The Answer." Many Christians have long sought and desire an ability to communicate their faith in a powerful yet acceptable, nonthreatening way. Bert Decker and Hershael York have combined their special expertise with powerful support from God's Word to give Christians the courage and know-how to come out of the closet and let their faith shine through the power of Christ. Good stuff!