Find this product on Logos.com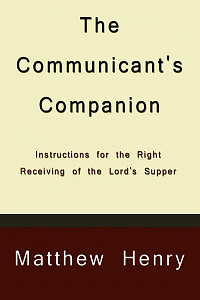 The Communicant's Companion
Instructions for the Right Receiving of the Lord's Supper
Product Details
Matthew Henry, most famous for his Complete Commentary on the Whole Bible, outlines how to partake in the Lord's Supper. Very practical, insightful, and thorough.
About the Author
Matthew Henry (1662-1714) was a Presbyterian minister in England, who is best known for his beloved devotional commentary on the Bible. He began his commentary on the Bible in 1704. He completed his work up to the end of Acts before his untimely death by stroke. Afterward, his ministerial friends completed the work from Henry's notes and writings. His Bible commentaries have always enjoyed much popularity for "their penetrating insight, exhilarating freshness, and ingenuity of thought and expression."
It has not been generally known that he was also a distinguished preacher. He began preaching at twenty-four years old and held pastorates until his death. The greatness of his sermons consists in their scriptural content, lucid presentation, practical application, and Christ-centeredness.
Endorsements
Of all the many treatises on the Lord's Table none possess more excellencies or fewer defects than Matthew Henry's COMMUNICANT'S COMPANION. It is very plain, very pious, and very practical. There is a simplicity, a naturalness, and a familiarity, which renders it peculiarly delightful reading, and makes us almost fancy ourselves enjoying the conversation of its venerable author.