Find this product on Logos.com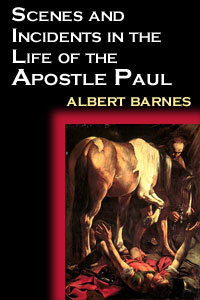 Scenes and Incidents in the Life of the Apostle Paul
Viewed as illustrating the nature and influence of the Christian religion
Highlights
Twenty Four lessons from Paul's life
Product Details
Reverend Albert Barnes felt these lessons based on the life of Paul, would strengthen his Christian readers and give them an approach to various types of people they might come in contact with as they lived their lives.
About the Author
Albert Barnes was was born in 1798 in Rome, New York. Barnes came under the influence of the writings of Thomas Chalmers, a Scottish Presbyterian writer, while studying for a legal career at Hamilton College. He became a Presbyterian, and in 1820 entered Princeton Theological Seminary. In 1825 he became pastor of the Presbyterian Church at Morristown, New Jersey.
In 1830 Barnes was called to the First Presbyterian Church of Philadelphia, but his call was challenged by the conservative, or "old-school," Presbyterians. They claimed that statements he made in a printed sermon, "The Way of Salvation," were out of accord with Presbyterian doctrine, especially on the imputation of Adam's sin and the nature of human will. Barnes's case reached the Presbyterian General Assembly in 1831, and for the first time sharp disputes arose between "old-school" and "new-school" Presbyterians in the Assembly. The Assembly, firmly in control of new-school men, acquitted him of the heresy charges. The publication of his book Notes Explanatory and Practical, on the Epistle to the Romans (1835) led to a renewed doctrinal controversy. Sympathetic to the new-school position, the 1836 General Assembly exonerated him, but the action stimulated old-school efforts to rid the denomination of new-school tendencies. The 1837 General Assembly, under the control of the old school, exscinded the new school.
Barnes was an advocate of numerous social causes, including temperance and the abolition of slavery. He was an eloquent preacher, but his reputation rests chiefly on his expository works, which are said to have had a larger circulation both in Europe and America than any others of their class. Barnes's commentaries sold an estimated one million copies during his lifetime and are still in print. He died in West Philadelphia on December 24, 1870.