Find this product on Logos.com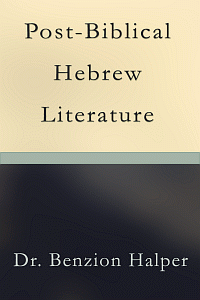 Post-Biblical Hebrew Literature
Highlights
In preparing these selections, Dr. Halper was guided by two principles: the literary merit of the extract and its pedagogic value.
Product Details
Studying Jewish literature from any time period offers unique insights into the Scriptures that are sometimes easily overlooked. Post-Biblical Hebrew Literature is a survey of Hebrew literature, including extracts from the Mishnah, the Talmud, the Midrashim, and from the writings of great rabbis through the Middle Ages and later.
About the Author
Benzion Halper (1884-1924) was born in Lithuania, but lived in Germany and England in his youth. In 1911, he moved to the United States to work with genizah; depositories of sacred books, in New York. Shortly thereafter, he began teaching rabbinics and languages at Dropsie College, and also was custodian of manuscripts there.