Find this product on Logos.com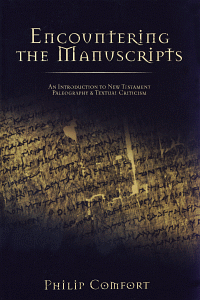 Encountering the Manuscripts
An Introduction to New Testament Paleography & Textural Criticism
Highlights
An in-depth discovery of the most important New Testament manuscripts
Product Details
Encountering the Manuscripts focuses on the most significant New Testament manuscripts from the perspective of paleography and textual criticism. Paleography pertains to the dating of the manuscripts, as well as to the calligraphic features of the manuscripts themselves. Each manuscript has a story to tell; each manuscript gives us a window into the transmission of the New Testament text in the earliest centuries. Textual criticism pertains to the critical evaluation of the trustworthiness of the text of each manuscript with respect to recovering the original wording of the Greek New Testament. This volume merges the two areas of study by looking at both paleography and textual criticism as we encounter the New Testament manuscripts.
Based on his exhaustive experience and study, author Phillip Comfort:
Explores scribal participation in the production of the earliest New Testament writings
Gives an annotated list of all significant Greek manuscripts and early versions
Assign dates for the earliest New Testament manuscripts
Examines the "Nomina Sacra" (Sacred Names) in the early New Testament manuscripts
Presents the history of textual variation in the early centuries of the Church
Details various methods of recovering the original wording of the Greek New Testament
Provides concrete examples for the practice of Textual criticism
About the Author
Philip Wesley Comfort earned his doctoral degree from the University of South Africa. He has studied English literature, Greek, and New Testament at the Ohio State University and the University of South Africa. He has taught these classes at a number of colleges, including Wheaton College, Trinity Episcopal Seminary, Columbia International University, and Coastal Carolina University. He is currently senior editor of Bible reference at Tyndale and served as New Testament editor for the New Living Translation. He has contributed a number of books to the Tyndale collection, both as author and editor. Among these are The New Greek-English Interlinear New Testament, The Origin of the Bible, Essential Guide to Bible Versions, The Text of the Earliest New Testament Greek Manuscripts and Who's Who in Christian History.