Find this product on Logos.com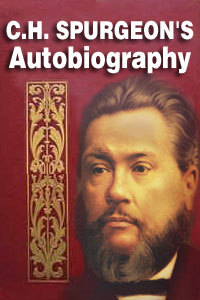 Charles Haddon Spurgeon Autobiography
Extensively compiled from Spurgeon's Diary, Letters, Personal Writings and Records
Product Details
This biography on Charles Haddon Spurgeon's Life was extensively compiled from Spurgeon's Diary, Letters, Personal Writings and Records by Mrs. C. H. Spurgeon and J. W. Harrald.
Volume One covers the years 1834-1854, with details on his grandparents, early life, salvation, copies of his original outlines ("skeletons" as he called them), early efforts at soul winning and preaching, up to his early days in London at New Park Street Chapel.
Volume Two covers the years 1854-1860, with details of his love, courtship and marriage, early criticism and slanders, first literary friends, new school of the prophets, beginning of the Tabernacle, and his first printed works.
Volume Three covers the years 1856-1878, beginning with the opening of the Tabernacle, his review of both Deacons and Elders, foreign travel, Pastor's College, including letters between pastor and church, showing their great love for one another.
Volume Four covers the years 1878-1892, dealing with the Spurgeon's 25th wedding anniversary, enquirers and converts, a "typical week's work," the "Down-Grade" controversy, his last letters, long illness, and death.
About the Author
Few people in history can be known by one name and have it ring true with their audience, and Charles Haddon Spurgeon is one of them. Over time, Spurgeon has become known and revered as the "Prince of Preachers". In the last 200 years he has been one of the most influential men for not only Preachers of the Gospel but for those who have not had the opportunity to hear and receive the Gospel message. He wrote tirelessly over his life, and Wordsearch Bible Software is committed to bring as many of Spurgeon's works as possible to you in electronic form.
The details of Charles Haddon Spurgeon's life still continue to amaze one and all. He was born in Kelvedon, Essex, England, on June 19, 1834. He accepted Christ in 1850 at the age of 15. By age 16, he preached his first sermon in 1851, and by age 20, Spurgeon had already preached over 600 sermons. In 1854, Spurgeon was asked to become pastor of the New Park Street Chapel, one of the sixth largest Baptist Churches in London.
The 1200 seat Chapel had previously been pastored by Dr. John Gill among others, and it carried a rich heritage with it. Although the Church was located in the midst of a filthy industrial district which was hard to reach, by 1855, it was obvious that the Church must start meeting at the Exter Hall while the Church building was expanded. When the expansion was completed, it still was too small and the congregation was forced to start meeting at the Surey Music Hall. By 1856, over 10,000 people would crowd the hall just to get a chance to hear Spurgeon preach a sermon.
To accommodate the growing number of people, the church voted to build a new sanctuary and to change the name of the Church to the Metropolitan Tabernacle. On March 31, 1861, the first service was held in the sanctuary, with a capacity of 5,600 was the largest non-conformist church in the world.
When Spurgeon came to New Park Street in 1854 it had a membership of just 232 members. By the end of 1891, 14,460 souls had been baptized and added to the church with a standing membership of 5311. Spurgeon ministered there for over 30 years. It is estimated that over his lifetime he preached to over 10,000,000 people.
Endorsements
Biographies are generally interesting if they are biographies; that is to say, if the events of the person's life are truly told; but I think that the most interesting biography to any man is his own life... It would have been impossible for me to quote the experiences of other men if they had not been bold enough to record them, and I make an honest attempt to acknowledge my debt to my greater predecessors by writing down my own. Whether this arises from egotism or not, each reader shall decide according to the sweetness of acidity of his own disposition. A father is excused when he tells his sons his own life-story, and finds it the readiest way to enforce his maxims; the old soldier is forgiven when he 'shoulders his crutch, and shows how fields were won;' I beg that the license which tolerates these may, on this occasion, be extended to me.
Every page sparkles with good things. The record is worthy of the man.
The Autobiography is full of characteristic touches. Almost every page contains some instance of Spurgeon's ready humour and his faculty for apt illustration.