Find this product on Logos.com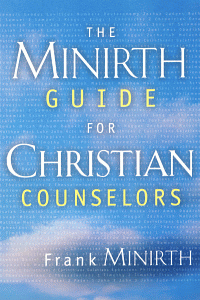 The Minirth Guide for Christian Counselors
Product Details
Christian counseling involves the integration of faith and medicine, and Dr. Frank Minirth, qualified in the fields of medicine, theology and counseling, has represented the epitome of the disciple.
The Minirth Guide for Christian Counselors is a comprehensive resource for those who counsel from the Scriptures, providing analysis of the four most common emotional obstacles in counseling, and providing biblical solutions. This book also examines why Christians suffer breakdowns and how Christian counselors can offer unique help.
The Minirth Guide for Christian Counselors also includes a comprehensive collection of the most commonly needed and most helpful forms used in counseling such a billing and insurance, confidentiality statement, consent for mentoring, appointment sheet, release of information, evaluation forms, commonly needed phone numbers, and more.
About the Author
Frank B. Minirth, Ph.D., M.D. is a diplomate of both the American Board of Psychiatry and Neurology and the American Board of Forensic Medicine. He holds doctoral degrees in both theology and medicine. Dr. Minirth has been in private practice in the Dallas area since 1975. He has degrees from Arkansas State University, Arkansas School of Medicine, and Dallas Theological Seminary. He is president of the Minirth Clinic, P.A., in Richardson, Texas and consultant to the Minirth Christian Program at Green Oaks Behavioral Healthcare Services. He is also adjunct professor in the Pastoral Ministries/Counseling Department at Dallas Theological Seminary. Dr. Minirth is heard nationally on radio and television, and he has authored or coauthored approximately sixty books, including the best sellers Happiness is a Choice,Love is a Choice and Love Hunger.
Endorsements
What James Dobson became to the Christian Family, Frank Minirth became to Christian Counseling