Find this product on Logos.com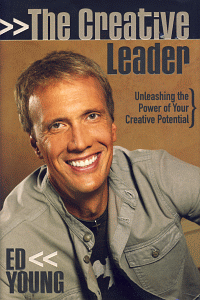 The Creative Leader
Unleashing the Power of Your Creative Potiential
Highlights
A step-by-step look at message development
Crafting effective illustrations
Implementing team creativity
How to keep your audience engaged
Building a creative staff
Overcoming obstacles to innovation
Integrating multiple senses into your service
Tips to keep the ideas flowing and avoid burnout
A big-picture rundown for your weekend service
Product Details
Why should we implement creativity in leadership? Creativity is not an option for the church; it is a Biblical mandate that flows from the very character of the Creator. If church leaders are going to live out the challenging mission that God has laid out for the local church, we must unleash the creative potential available to us.
This book is the definitive answer for the question Ed Young hears over and over again…What have you done at Fellowship Church to remain creative and continue growing? Think of it as a field manual for doing church differently. Packed with details, this book covers the full spectrum of church leadership all in one place. With practical case studies of proven creative leaders and candid Q&A sessions at the end of each section, this book offers concrete help and hope to those who need a jump-start in their creative planning. If you're looking for a resource to help you maintain the status quo, this is not it. But if you're looking for a book that can help bring a sense of vitality and excitement to both your life and your organization, this book is for you.
About the Author
Ed Young is the founding and Senior Pastor of Fellowship Church. The church has its main campus just north of the Dallas/Fortworth, Texas Airport and operates four satellite campuses in the greater Dallas/Fort Worth area and one campus in Miami, Florida.
Ed Young is an author and conference speaker noted for his creative communication style. He has a passion for making the complex, simple as he speaks truth to people in ways they can understand and apply to their everyday lives. He has written thirteen books, including The Marriage Mirror, Outrageous, Contagious Joy, Beauty Full and Kid CEO.
Ed provides resources for church leaders through CreativePastors.com and the Creative Church Conferences . Ed Young Ministries broadcasts a weekly television program throughout the world. Ed Young Television can be viewed nationally and internationally on TBN, Daystar and God TV.
Endorsements
Ed Young is one the most creative leaders of one of the most creative churches around. This book is not only out of the box and outside of the lines, it's on another page altogether.