Find this product on Logos.com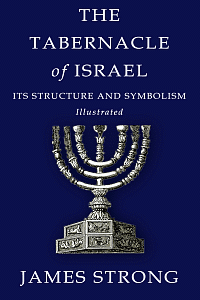 Tabernacle of Israel
It's Structure and Symbolism
Highlights
From the author of Strong's Exhaustive Concordance of the Bible
Product Details
What was the Tabernacle of Israel really like? How was this portable place of worship constructed? How did the priesthood function, and what role did the Tabernacle play in the life of the average person? What significance does the Tabernacle have for the Christian? These and many other questions are answered in this fascinating study of Israel's first place of worship.
One of the nineteenth century's most respected Bible scholars, Dr. James Strong spent some thirty years of systematic study in preparing The Tabernacle of Israel. Using two broad categories for his study of the Tabernacle—its structure and its symbolism—Strong provides a detailed picture of the history, construction, function, and significance of Israel's "tent of meeting." Also included are thirty-nine drawings and illustrations detailing the design of the Tabernacle and its parts.
About the Author
James Strong (1822-1894), LL.D., S.T.D., was born in New York City and graduated from Wesleyan University. He was Professor of Biblical Literature at Troy University in 1858-61 and became Professor of Exegetical Theology at Drew Theological Seminary in 1868. James Strong passed away in the fall of 1894 at Round Lake, New York.
His best known work is Strong's Exhaustive Concordance of the Bible, first published in 1890, of which new editions are still in print as of 2009. Another major contribution was to the majesterial "Cyclopedia of Biblical, Theological, and Ecclesiastical Literature" 1867-81. Some of his other works are: A New Harmony and Exposition of the Gospels (1852); Scripture History delineated from the Biblical Records and all other Accessible Sources (1878) and The Tabernacle of Israel in the Desert(1888).