Find this product on Logos.com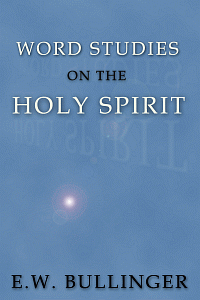 Word Studies on the Holy Spirit
Product Details
In a day when much emphasis is given to the Holy Spirit, word studies keep our thoughts close to Scripture's truths.
Word Studies on the Holy Spirit (Formerly The Giver and His Gifts) contains a concordance and a commentary on every occurrence of the Greek word pneuma ("spirit"). Two appendixes show all relevant Scripture references at a glance. Indexes refer to subjects, Scripture references, and the Greek text.
About the Author
Born in Canterbury, England, Ethelbert William Bullinger was a Greek and Hebrew scholar. In 1881, through recommendation of the Queen of England, the Archbishop of Canterbury awarded him the honorary Lambeth D.D. Bullinger published many works during his life.
Endorsements
In his Characteristic fashion Bullinger studies the 365 occurrences of pneuma ("spirit") in the New Testament. He also gives a concise and helpful commentary for each verse.