Find this product on Logos.com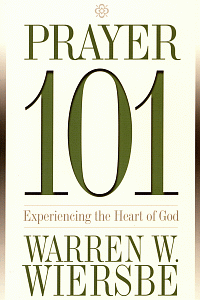 Prayer 101
Experiencing the Heart of God
Highlights
Do you feel like something is missing from your prayer life?
Do you wonder if God is even listening to your prayers?
Would you like to know how to invigorate your prayer life and be real before God?
Product Details
It is easy to fall into a bit of a rut during times of prayer, but you don't have to stay there. With pastoral wisdom and the humor and kindness of a good friend, one of the world's beloved Bible commentators, Dr. Warren Wiersbe will open your eyes to the possibilities of your prayer life and recharge your prayer power. Chapter titles such as "Bless My Enemies" and "Famous Unanswered Prayers" show you how to be authentic with God as you pray.
About the Author
Warren Wendel Wiersbe is an American pastor, Bible teacher, conference speaker and a prolific writer of Christian literature and theological works. Born on May 16, 1929 in East Chicago; Warren Wiersbe is perhaps best known for his series of twenty-seven books in the "Be" series: Be Real, Be Rich, Be Mature, Be Joyful, etc. and other theological works.
Warren Wiersbe studied at Indiana University, Roosevelt University, and Graduated from Northern Baptist Theological Seminary in 1953. While attending Seminary, Warren Wiersbe was ordained as pastor of Central Baptist Church in 1951 and served until 1957. From September, 1957 to 1961, Warren Wiersbe served as Director of The Literature Division for Youth for Christ International. From 1961 to 1971 he pastored Calvary Baptist Church of Covington, Kentucky. The church grew from a church seating a congregation of eight hundred to building a new church with a seating of two thousand. From 1971 to 1978, Warren Wiersbe pastored Chicago's Moody Memorial Church.
Warren Wiersbe was awarded two honorary Doctorate Degrees and has accumulated in his personal library more then ten thousand books. Some times referred to as "the pastor's pastor", Dr. Wiersbe has become a well known and trusted Bible theologian and scholar throughout Fundamental and Evangelical circles. He and his wife, Betty, reside in Lincoln, Nebraska.
Endorsements
One of the greatest Bible expositors of our generation.