Find this product on Logos.com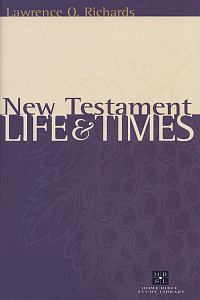 New Testament Life and Times
Highlights
Previously Published as The Victor Bible Background Commentary: New Testament
Product Details
What is a Bible Background Commentary?
Commentaries are among the most important books any Christian can own, for commentaries are dedicated to helping the reader better understand the Bible.
Yet commentaries vary in focus. New Testament Life And Times is a special type of reference tool. It is intended to provide enrichment information for the communicator of God's Word. In seventy-seven teachable units this volume covers the whole of the New Testament. It draws on a variety of sources to provide background which illuminates the text and guides its application to people today. And because the goal of the book is to serve the lay Bible teacher and preacher, special attention is paid to those passages which are most teachable and preachable.
Each chapter includes the following features:
Exposition: gives overview of the teaching unit
Word Studies: focuses on key terms and phrases
The Passage in Depth: explores discrete teachable and preachable events/teachings found in the exposition
Most entries include:
Background: gives information on key historical, archaeological, or cultural elements
Interpretation: examines original intent of the writer
Application: suggests how passage might be developed in a lesson/sermon
Also included in many of the units are sidebars that contain quotes from primary historical sources, charts, or relevant research.
About the Author
Lawrence (Larry) O. Richards was born September 25, 1931, in Milan, Michigan. His father was an elder in the local Presbyterian church, and his mother often verbalized her faith in the home. Richards grew up in the religious education programs of his church, but after junior high school did not give much attention to his religious formation.
From 1949 through 1951, Richards attended Antioch College in Ohio. He had no clear direction and hence left college and served in the Navy from 1951-1955. He was stationed in New York City and, during this time, converted to Christ under the ministry of Donald Grey Barnhouse.
Following this experience Richards became an avid Bible student and formed some of his most basic theological convictions. After his Navy stint he resumed his academic studies at the University of Michigan where, in 1958, he received a B. A. in philosophy.
His biblical curiosity was far from satisfied when Richards entered Dallas Theological Seminary, whose Th.M. curriculum required four years of Greek and three years of Hebrew, and provided a theological framework taught from a mildly Reformed and decidedly Dispensational viewpoint. In 1962 Richards was ordained by the non-denominational Grace Bible Church of Dallas, Texas.
After graduating from Dallas Theological Seminary, Richards moved to Wheaton, Illinois, where from 1962-1965 he was an editor of children's church materials for Scripture Press Publications. He was also an Associate Pastor in charge of Christian education at a local church and taught a large Bible class.
From 1965-1972 Richards was an Assistant Professor of Christian Education in the Wheaton College Graduate School where he also taught New Testament and Old Testament courses. During this time he was also enrolled in Ph.D. studies at the joint program offered by Garrett-Evangelical Theological Seminary and Northwestern University in Evanston, Illinois. He graduated in 1972, having written a dissertation on the relationship between the home and church educational programs.
In 1972, Richards moved to Phoenix, Arizona, where he embarked upon a career of full-time writing and speaking, in which he remains involved. Richards is the author of some 200 works, some of which have been translated into 24 languages, making him the most prolific of 20th century evangelical Christian educators and probably the most influential evangelical Christian education theorist. Some of his major works are being reprinted 20 or more years after their original publication date.
Richards currently resides in Hudson, Florida, and is actively involved in his church, Hudson's First United Methodist Church.