Find this product on Logos.com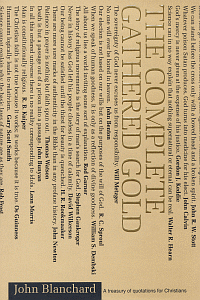 Complete Gathered Gold
A Treasury of Quotations for Christians
Highlights
Over 16,000 quotations based on 600 plus topics
A compilation of Gathered Gold, More Gathered Gold and Sifted Silver
22 years in the making
Product Details
Over twenty years ago John Blanchard compiled 'A Treasury Of Quotations For Christians' called Gathered Gold. It was so well received that it had to be reprinted several times and augmented by two further volumes, More Gathered Gold and Sifted Silver.
Now the time has come to make all of this material available to a new readership and in a new format. Approx. 1,000 further quotations have been added, making some 16,000 in all, and the whole work is presented as a new hardback edition. With quotations from many hundreds of sources, it is hoped that The Complete Gathered Gold will be a valuable resource for preachers, Bible class teachers and group leaders as well as a 'gold mine' for all Christians to dip into whenever they would like to read a gem of truth on any of the 600 or so subjects covered.
About the Author
Dr. John Blanchard is an internationally known Christian author, teacher and conference speaker. He received an award for his best-selling book Does God Believe in Atheists? as the best UK Christian Book for 2001. He is the author of many books including: Can we Rock the Gospel?, Evolution: Fact or Fiction?, Has Science Got Rid of God?, How to Enjoy your Bible, Is Anybody out There?, Is God Past his Sell-by Date?, Meet the Real Jesus, Read Mark Learn, Truth for Life, Ultimate Questions, Whatever Happened to Hell?, Where is God when things go wrong?, Where was God on September 11? and Why Believe the Bible?