Find this product on Logos.com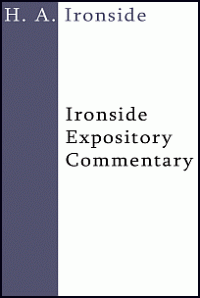 Ironside Expository Commentary
Old and New Testament Bundle
Highlights
Offers 24 Ironside volumes - all that are available!
Split into 31 volumes
From a dispensational perspective
Product Details
A highly sought-after classic commentary series from one of the most creative and articulate Expositors of the Twentieth century. This series is a perfect resource for those who preach and teach. These commentaries also provide the general reader with an excellent resource for personal study and spiritual growth.
Internationally beloved Bible teacher and preacher
Clear, easily grasped outlines and a vivid writing style
Long out-of-print and highly sought after series of commentaries
About the Author
Henry Allen "Harry" Ironside, (1876-1951), was born in Toronto, Ontario, Canada, to John and Sophia ,who were both active in the Plymouth Brethren. At birth, Harry was thought to be dead, so the attending nurses focused their attention on Sophia, who was dangerously ill. Only when a pulse was detected in Harry, 40 minutes later, was an attempt made to resuscitate the infant. When Harry was two years old, his father, John, died of typhoid, at the age of 27. From a very early age, Harry Ironside showed a strong interest in evangelical Christianity. When the family moved to Los Angeles, California, and finding no Sunday school there for him to attend, Harry started his own at age 11. Gathering old burlap bags, Harry and his childhood friends sewed them together, producing a burlap tent that could accommodate up to 100 people. When they were unable to find an adult teacher, Ironside himself did the teaching, with attendance averaging 60 children - and a few adults - each week.
In 1888, a well-known evangelist Dwight L. Moody preached at a campaign in Los Angeles, with meetings held at the Temple Pavilion which could seat up to 4,000. This inspired Ironside, who hoped to also be able to preach to such crowds one day. After an evening of prayer, in February 1890, Ironside, at age 13, accepted Christ. He began preaching in Los Angeles at the age of fourteen and for the next few years Ironside worked full-time at a photography studio, and at night he preached at Salvation Army meetings. At age 16, he left the photography business and became a preacher full-time with the Salvation Army. He was commissioned a Lieutenant in the Salvation Army, and was soon preaching over 500 sermons a year around Southern California. At 18, the grueling schedule had taken its toll on his health, and Ironside resigned from the Salvation Army, entering the Beulah Rest Home to recuperate.
In 1896, at 20, he moved to San Francisco, becoming associated again with the Plymouth Brethren. While there, he began helping at British evangelist Henry Varley's meetings, and there he met pianist Helen Schofield, and the two soon married in 1898. During this time, Ironside also began his career as a writer, publishing several Bible commentary pamphlets. In 1914, he rented a storefront and established the Western Book and Tract Company, which operated successfully until the depression in the late 1920s.
For six years Ironside was professor of Biblical Literature at the Evangelical Theological College in Dallas, Texas. In 1918, he was associated with evangelist George McPherson; and in 1924, Ironside began preaching under the direction of the Moody Bible Institute. In 1930, he became the Pastor of Moody Memorial Church in Chicago, Illinois and was presented with an honorary Doctorate of Letters degree from Wheaton College. Almost every Sunday that he preached there, the 4,000 seat church was filled to capacity. While there, he continued traveling to other US cities during the week for preaching engagements. In 1932, he expanded his travels internationally. In 1938, he toured England, Scotland and Ireland, preaching 142 times to crowds of upwards of 2,000. In 1942, he also became president of the missionary organization, Africa Inland Mission and in the same year was awarded an honorary Doctor of Divinity degree from Bob Jones University.
Ironside resigned as Pastor from the Moody Memorial Church in 1948 and he retired to Winona Lake, Indiana. He suffered from failing vision, and after surgery to restore it, he set out on November 1950, for a preaching tour of New Zealand, once more among Brethren assemblies, but died in Cambridge, New Zealand, on January 1951 and was buried there.
Endorsements
It is a rare combination, indeed, when a man is both a master of Bible exposition, based on a lifetime of arduous study, and an outstanding author from the stand point of clarity, accuracy and popular style. All of this is noticeably true of Dr. H. A. Ironside, Pastor of the great Moody Memorial Church, Chicago. I anticipate that his new book, "Except Ye Repent," will prove a great spiritual uplift to thousands everywhere. I congratulate the American Tract Society on the possession of this book, and commend it without hesitation as I do all that Dr. Ironside has written."
Dr. Harry A. Ironside is undoubtedly one of the greatest living Expository Preachers.. One evidence of his greatness is the fact that he preaches to audiences of three to four thousand people in his own church twice each Sunday. He is a man of spiritual depth as well as breadth of general and Biblical knowledge.
Dr. Ironside might well win a prize in a sermonic competition. Very few preachers in America have preached to larger congregations, with more effective results. For a lifetime he has ministered to every kind of a congregation, ever with one supreme purpose—to exalt Christ in such a way that men should be drawn to Him and everywhere God has honored his teaching and his testimony.
Dr. Ironside not only knows the Bible with amazing thoroughness, digging deep below the surface into its treasures, but he knows how to share his findings with others in simple, straightforward, revealing and convincing writing. His teachings are sane, well balanced, scholarly and spiritual. Withal is a humanness and, on occasion a touch of humor that gives added charm to his messages.
Products Included In This Bundle