Find this product on Logos.com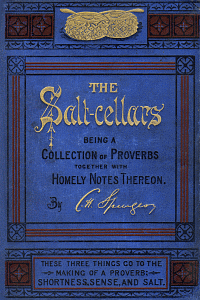 The Salt-Cellars
A Collection of Proverbs, together with Homely Notes Thereon
Highlights
From the Prince of Preachers
Product Details
These three things go to the making of a Proverb: Shortness, Sense, and Salt.
There is a collection of proverbs in two volumes, entitled The Salt Cellars. About these a friendly reviewer said: "We are more interested in Mr. Spurgeon's applications than in many of the proverbs. The reader asks himself as he lights on some familiar or unfamiliar proverb, 'Come, now, I wonder what Mr. Spurgeon will make of that.' For one never knows what he will make of it. The old-fashioned application of Aesop's Fables every child could anticipate, but there is no such commonplace and prosaic certainty about Mr. Spurgeon's applications, and therefore they have to be read." And in response to another criticism he wrote to George Augustus Sala: "I like the parts in which you pitch into me quite as well as those in which you praise." These volumes contain many of the proverbs published year by year in John Ploughman's Almanack, with shrewd comments thereon.
About the Author
Few people in history can be known by one name and have it ring true with their audience, and Charles Haddon Spurgeon is one of them. Over time, Spurgeon has become known and revered as the "Prince of Preachers". In the last 200 years he has been one of the most influential men for not only Preachers of the Gospel but for those who have not had the opportunity to hear and receive the Gospel message. He wrote tirelessly over his life, and Wordsearch Bible Software is committed to bring as many of Spurgeon's works as possible to you in electronic form.
The details of Charles Haddon Spurgeon's life still continue to amaze one and all. He was born in Kelvedon, Essex, England, on June 19, 1834. He accepted Christ in 1850 at the age of 15. By age 16, he preached his first sermon in 1851, and by age 20, Spurgeon had already preached over 600 sermons. In 1854, Spurgeon was asked to become pastor of the New Park Street Chapel, one of the sixth largest Baptist Churches in London.
The 1200 seat Chapel had previously been pastored by Dr. John Gill among others, and it carried a rich heritage with it. Although the Church was located in the midst of a filthy industrial district which was hard to reach, by 1855, it was obvious that the Church must start meeting at the Exter Hall while the Church building was expanded. When the expansion was completed, it still was too small and the congregation was forced to start meeting at the Surey Music Hall. By 1856, over 10,000 people would crowd the hall just to get a chance to hear Spurgeon preach a sermon.
To accommodate the growing number of people, the church voted to build a new sanctuary and to change the name of the Church to the Metropolitan Tabernacle. On March 31, 1861, the first service was held in the sanctuary, with a capacity of 5,600 was the largest non-conformist church in the world.
When Spurgeon came to New Park Street in 1854 it had a membership of just 232 members. By the end of 1891, 14,460 souls had been baptized and added to the church with a standing membership of 5311. Spurgeon ministered there for over 30 years. It is estimated that over his lifetime he preached to over 10,000,000 people.
Endorsements
The 'Salt-Cellars' might be safely commended, even to that vague and not very earnest personage, the general reader. Let him open the books where he may, he will find something to make him stop and read.
This is a book to be kept close at hand for a spare five minutes; there is not a sentence in it which does not fulfill the requirement of the motto on the title-page, by having 'shortness, sense, and salt.' The arrangement of the matter is masterly; while the get-up of the volume reflects great credit on the publishers.
The proverbs are excellent, but Mr. Spurgeon's comments are perfect. They are sententious, show a profound knowledge of human nature, are often humorous, always on the side of right, and not uncommonly more proverbial than the proverbs themselves.
These proverbs and quaint sayings may be of great service in sermons and platform addresses. Preachers and speakers would do well to make a judicious use of them.
I've always loved Charles Spurgeon for his plainspokenness, his courage, his enthusiasm for the Word of God, his love for the truth, his command of the English language, and his ability to use simple, vivid language to make difficult truths inescapably clear.
One day I heard a friend say, "I write my sermons, then I read Spurgeon to see how he dealt with the text." The Prince of Preachers is still head of the class.