Find this product on Logos.com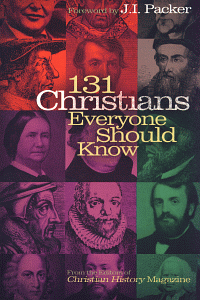 131 Christians That Everyone Should Know
From the Editors of Christian History Magazine
Product Details
History isn't just dates, statistics, and grand social movements. It's people. Fascinating people.
If you think history is boring, take about three minutes to scan through 131 Christians Everyone Should Know. Zero in on an article and you may find that you cannot read just one.
These sketches have been put together by the editors of Christian History Magazine, who have an impressive track record for making history come alive every month for their readers.
Note the diversity and different callings:
Theologians—Athanasius and Jonathan Edwards
Evangelists and Apologists—Justin Martyr and Billy Graham
Pastors and Preachers—John Chrysostom and Richard Baxter
Musicians—Johann Sebastian Bach and George Fredric Handel
Artist and Writers—Rembrandt and C.S. Lewis
Poets—Dante and Fanny Crosby
Denominational Founders—Richard Allen and Aimee Semple McPherson
Movers and Shakers—Dominic and John Wycliffe
Missionaries—Patrick and David Livingstone
Inner Travelers—Brother Lawrence and Oswald Chambers
Activists—Sojourner Truth and Lord Shaftesbury
Rulers—Charlemagne and Henry VIII
Scholars and Scientists—Eusebius of Caesarea and Nicolas Copernicus
Martyrs—Perpetua and Dietrich Bonhoeffer
Each personality sketch includes a timeline that gives the historical context in which that person lived. This book also contains a topical index that will help you find illustrations for teaching and preaching.
About the Editors:
Mark Galli is senior managing editor of Christianity Today. He has also been an editor with Christian History and Leadership. He is a graduate of Fuller Theological Seminary (M.Div.) and the author of Francis of Assisi and His World, and Jesus Mean and Wild: The Unexpected Love of an Untamable God. He is married and has been worshiping in the Anglican tradition for nearly 20 years.
Ted Olsen is news director and online managing editor of Christianity Today. He has been writing the magazine's online Weblog—a collection of news and opinion articles from mainstream news sources around the world—since 1999. In 2004, the paper version of the magazine launched Weblog in Print, which looks for unexpected connections and trends in articles appearing in the mainstream press. The column was renamed "Tidings" in mid-2006 and now runs monthly.