Find this product on Logos.com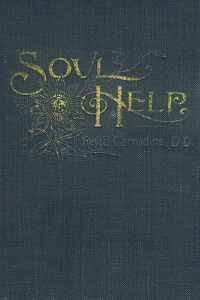 Highlights
From a Arminian perspective
Product Details
In this book Soul Help, Rev. Beverly Carradine expounds on the subject of the "Soul". Drawing from scripture, Carradine offers examples and insight of how we share the Gospel for those in need of "Soul Help".
The topics include:
The Soul
The Way Of Salvation
Christian Service
Christian Pay
The Uses Of Temptation
The Compensating Experience
The Rod Of Moses
The Limp Of Jacob
The Ruin Of Absalom
The Rejection Of Saul
Doctrines Of Devils
A Portrait Of Sin
Soul Saving
The Character Of Jesus
The Drawing Power Of Christ
"These Sayings Of Mine"
The Candle Of The Lord
The Power Of A Good Life
"Thou Shalt Not Steal"
"God Was With Him"
The Friend Of God
The Weapons Of Gideon
The Place Of Safety
Faithfulness
The Standing Blessing
A Soldier Of The Cross
Departed Blessings
"Let Not Your Heart Be Troubled"
About the Author
Rev. Beverly Carradine was born in 1848 probably near Midway in the hill country in Mis­sis­sip­pi. After graduating from Ole'Miss at Oxford Mississippi in 1867 he moved to Yazoo city and became apprenticed to a druggist to prepare for a career in medicine and pharmacy. From 1870-1874 Beverly was a clerk and bookkeeper for Ingleside Country Store. In 1874 he was converted and after a long struggle with doubts, he finally accepted his call to preach.
In 1874, in the 1st Methodist Church, Yazoo City, he was licensed to preach. In 1875 he started his first circuit at Vernon Mission. This circuit was 25 miles long with two churches and two preaching points. In March of 1875 he moved to Jackson to the Madison Mission and his circuit was 8 miles long consisting of two churches. In 1877 he received his first pastorate in Brandon, Mississippi. This was a thriving church where Carradine pastored for four years and revival was almost constant. From 1881-1883 Carradine pastored several churches in Mississippi. Carradine moved to Louisiana and pastored in New Orleans from 1883-1890. In June of 1890 his church sent him on a trip which took him to England, France, Germany, Italy, and Egypt, the trip lasted 4 months. In 1893 while he was in St. Louis the Lord called him to be an Evangelist.
From 1901-1912 Carradine was a part of the National Holiness Association. During this time Carradine became unhappy with what he felt was the wrong direction being taken by the NHA. He felt they were leaving the holiness emphasis and including much that had nothing to do with the promotion of holiness. In 1912 he sent a letter to the NHA resigning his association with them.
In the fall of 1912 he applied to the St. Louis Conference of the Methodist Church to become a Methodist evangelist. His application was accepted by Bishop Condler. Early in 1918 he moved to Seattle to hold some revivals in eight west coast churches. In September of 1918 he was hit by a trolley and miraculously he was not seriously hurt. In late April of 1919 he lost consciousness and lapsed into a coma that lasted six weeks. His coma had left him mentally confused. In 1922 his friend and publisher, E. L. Kletzing took him to Fort Scott and paid for his treatment. Slowly he regained his mental capacity, but some of his delusions never left him.
Carradine lived in Waverly, Illinois for most of the rest of his life, and in the spring of 1930, he completed his last book, "Life's Chromos, Vol 2.. In 1931, he went to be with Jesus on a Thursday. His body was taken by train from Chicago to Vicksburg without charge out of respect for him. Thus ended the life of "The Prince of Holiness Writers"