Find this product on Logos.com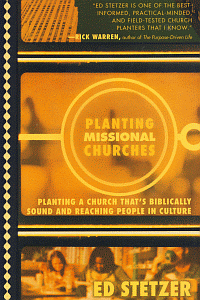 Planting Missional Churches
Planting a Church that's Biblically Sound and Reaching People in Culture
Product Details
Planting Missional Churches is an instruction book for planting biblically faithful and culturally relevant churches. It addresses the "how-to" and "why" issues of church planting by providing practical guidance through all the phases of a church plant while taking a missional look at existing and emerging cultures.
Rick Warren says, "Ed Stetzer is on of the best informed, practical minded, and field-tested church planters that I know."
Missional implies taking the methods of a missionary—being indigenous to the culture, seeking to understand and learn, adapting to the mission field—but planting the biblical form of the church.
About the Author
Ed Stetzer has served churches for 20 years, he has served as a seminary professor, and now is senior director of the Center for Missional Research at the North American Mission Board where he researches churches and culture for more effective ministry. He holds two Masters degrees and has written dozens of articles and books including Breaking the Missional Code: Your Church Can Become a Missionary in Your Community, and Planting Missional Churches: Planting a Church that's Biblically Sound and Reaching People in Culture.
Endorsements
Ed Stetzer is one of the best-informed, practical minded, and field-tested Church planters that I know.