Find this product on Logos.com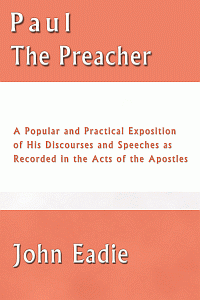 Paul the Preacher
A Popular and Practical Exposition of His Discourses and Speeches as Recorded in the Acts of the Apostles
Product Details
It is humbly hoped that this volume may be useful in giving ordinary readers a just and full conception of the creed and preaching, the life and work, of the great apostle of the Gentiles, who, amidst all diversities of place, time, audience, and immediate theme, made it his constant business to preach Christ crucified. May we know Him to be 'the power of God' and the 'wisdom of God,' and experience that change of heart which is only effected by such a manifestation of His truth and glory as He bestowed to Saul of Tarsus.
About the AuthorJohn Eadie was born at Alva, in Stirlingshire, Scotland in 1876. Having taken the arts curriculum at the University of Glasgow, he studied for the ministry at the Divinity Hall of the Secession Church, a dissenting body which, on its union a few years later with the Relief Church, adopted the title United Presbyterian.
In 1835 he became minister of the Cambridge Street Secession church in Glasgow, and for many years he was generally regarded as the leading representative of his denomination in Glasgow. As a preacher, though he was not eloquent, he was distinguished by good sense, earnestness and breadth of sympathy. In 1863 he removed with a portion of his congregation to a new church at Lansdowne Crescent.
In 1843 Eadie was appointed professor of biblical literature and hermeneutics in the Divinity Hall of the United Presbyterian body. He held this appointment along with his ministerial charge till the close of his life. Though not a profound scholar, he was surpassed by few biblical commentators of his day in range of learning, and in soundness of judgment. In the professor's chair, as in the pulpit, his strength lay in the tact with which he selected the soundest results of biblical criticism, whether his own or that of others, and presented them in a clear and connected form, with a constant view to their practical bearing.
He received the degree of LL.D from Glasgow in 1844, and that of D.D. from St Andrews in 1850. His publications were connected with biblical criticism and interpretation, some of them being for popular use and others more strictly scientific. To the former class belong the Biblical Cyclopaedia, his edition of Cruden's Concordance, his Early Oriental History, and his discourses on the Divine Love and on Paul the Preacher; to the latter his commentaries on the Greek text of St Paul's epistles to the Ephesians, Colossians, Philippians and Galatians, published at intervals in four volumes.
His last work was the History of the English Bible in 1876. He rendered good service as one of the revisers of the authorized version. He died at Glasgow on the 3rd of June 1876. His valuable library was bought and presented to the United Presbyterian College.
Endorsements
Designed to give ordinary readers a juster and fuller conception of the doctrine and life-work of the apostle. AN ABLE WORK.