Find this product on Logos.com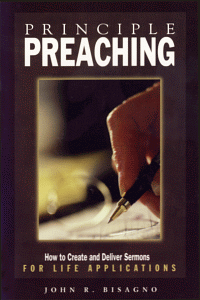 Principle Preaching
How to Create and Deliver Sermons For Life Applications
Highlights
State the principle
Explain the principle
Apply the principle
Illustrate the principle
Product Details
Principle Preaching, preaching life-changing principle-based sermons, is the style of preaching that John Bisagno has been using for years. Principle Preaching takes biblical principles and makes life applications by infusing these principles into the narrative preached. As a result, hearers of your sermons, instead of having three or four judiciously made sermon points, have life application principles they can put into practice in their daily life—immediately. Principle Preaching includes forty chapters featuring principle sermons from both the Old and New Testament characters such as Adam and Eve, Noah, Abraham, Moses, Pharaoh, Mary and Joseph, John the Baptist, Peter, Pilate and Timothy.
About the Author
John Bisagno received his Doctor of Divinity degree from Oklahoma Baptist University, a Doctor of Letters from Southwest Missouri Baptist University, and his Doctor of Divinity degree from Houston Baptist University. He is Pastor Emeritus of the 22,000-member Houston's First Baptist Church.
In addition to being nationally recognized as a popular and effective crusade evangelist and Bible teacher, he is the author of 25 books. Dr. Bisagno has spoken at the Southern Baptist Convention, the World Congress on Evangelism, and every major state convention and state evangelism conference. He has conducted over 35 international crusades, lectured at every Southern Baptist seminary, and currently serves on the adjunct faculty of Southwestern Baptist Theological Seminary's Houston campus.
He and his wife, Uldine, reside in Houston. They have three children and eight grandchildren.
Endorsements
There are some great pastors that excel in one particular area. But John has excelled at it all.
First Houston was the first of the new wave of mega churches among us. John was the pacesetter - he showed the way for us all.