Find this product on Logos.com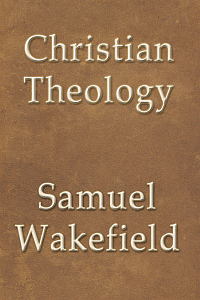 A Complete System of Christian Theology
A Concise, Comprehensive, and Systematic View of the Evidences, Doctrines, Morals and Institutions of Christianity
Highlights
A Systematic Theology from a Wesleyan-Holiness perspective
Product Details
A Complete System of Christian Theology was written to furnish a clear and comprehensive outline of scriptural theology, especially intended for the the benefit of those who are preparing for the Christian ministry, it should at the same time be adapted to the wants of all classes of readers from the aged theologian to the Sabbath-day scholar. How far Wakefield has succeeded in the accomplishment of his purpose others must be the judge.
About the Author
Rev. Dr. Samuel Wakefield was a distinguished clergyman of the Methodist Episcopal Church for more than half a century, a scholar of eminent abilities and an author of wide repute. He was born in Pennsylvania in 1799. When he was one year old his parents moved to Armagh, a small Irish village; and still later moved farther west in the state and made a home in a wilderness region. In that wild country the opportunities for acquiring even a rudimentary education were almost wholly lacking. Wakefield and some other boys were sent to the mill with grain for grinding. While waiting the other boys amused themselves with reading the handbills posted near the mill. Samuel could not read a single word; and that day he carried home a determination to acquire an education.
At fourteen years old, he enlisted as a drummer boy in a company serving at Black Rock in the second war with Great Britain. At seventeen he established and successfully conducted a subscription school in the Ligonier Valley, near Fort Palmer. In 1819 he walked with his father thirteen miles to attend a Methodist meeting. The meeting was conducted by John Jasper Wirsing, who had served as a soldier under Napoleon. There Samuel Wakefield went forward and gave his name to the church. He was licensed as a local preacher by the quarterly conference of the Methodist Episcopal church.
Dr. Wakefield was the founder of a large number of Methodist Episcopal churches throughout western and southwestern Pennsylvania. After being licensed to preach his first location was at West Newton. He was a good Hebrew, Greek and Latin scholar, and his attainments in systematic theology were of high order. Dr. Wakefield also possessed significant musical talents and felt the necessity of improvement in this important part of public worship, and so he set to work to remedy this defect which resulted in "Wakefield's Music" . Dr. Wakefield possessed considerable mechanical genius and constructed with his own hands the first pipe organ ever used west of the Allegheny mountains. He also invented and patented a system of tailoring.
In 1834 he joined the Pittsburgh conference and served in the regular ministry until 1880. His honorary degree of Doctor of Divinity was conferred by Allegheny College in 1854, and that of Legum Doctor by the same institution in 1856. He was author of "Wakefield's Systematic Theology," which was first published about the time of the end of the late Civil war. That work is still recognized throughout the Methodist church as an excellent authority, and is used as a text-book in several theological seminaries. In September, 1893, at the ripe old age of ninety-three years, he prepared for the press and published a volume of sermons entitled Gospel Tidings. He also wrote Moral Philosophy and he also assisted in preparing Watson's Theological Institutes.
Dr. Wakefield served in the Pennsylvania legislature from 1862 to 1864; he was a democrat, and was perhaps at the time of his death the oldest Mason in the United States. He spent the evening of his life at West Newton, preaching almost constantly even to the last. Dr. Wakefield died September 13, 1895, in his ninety-seventh year.