Find this product on Logos.com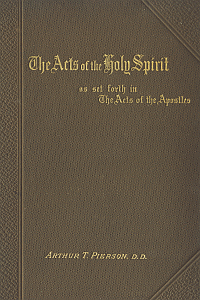 The Acts of the Holy Spirit
Being an Examination of the Active Mission and Ministry of the Spirit of God, the Divine Paraclete, as set forth in the Acts of the Apostles
Highlights
Recommended reading by The Pneuma Foundation Ministry
From the "Father of Fundamentalism"
Product Details
In his book The Acts of the Holy Spirit, Dr.Pierson offers insight into the person of the Holy Spirit. He traces His work in the early Church and illustrates that the Church was not built upon an elaborate organizational structure, but on a life of earnest service inspired by a Spirit daily received. He challenges us to return to this simple living based upon daily guidance through the power of the Holy Spirit.
About the Author
Arthur Tappan Pierson was born in New York City in 1837, he was named after Arthur Tappan, the famous New York abolitionist. While attending a Methodist revival meeting in 1850 at the age of 13, he first publicly professed faith in Jesus Christ. He graduated from Hamilton College, Clinton, New York in 1857, and Union Theological Seminary in 1869.>
At the age of forty, while serving as pastor of the largest church in Detroit, he attended a series of evangelistic messages and realized he was prideful and greedy, and had sought the approval of the rich. As a result, he led his wealthy congregation to reach out to the poor of Detroit. He then moved to banish the practice of pew rents and committed to accept his salary on a faith basis.
In 1889-90 he made a missionary tour of the United Kingdom. He acted as the elder statesman of the student missionary movement and was the leading evangelical advocate of foreign missions in the late 1800s. Since 1888 he was editor of the Missionary Review of the World, and was lecturer on missions in Rutgers College in 1891 and Duff lecturer in Scotland in 1892. When Spurgeon unexpectedly died on January 31, 1892, the people of the Metropolitan Tabernacle in London, invited Pierson to occupy the pulpit in his place, which he did for the next two years.
Besides his contributions to missions, Pierson's most notable influence was due to his commitment to orthodoxy. When liberalism began sweeping through the mainline denominations, Pierson joined other concerned Christian leaders in publishing "The Fundamentals", a series of booklets designed to answer the critics of Christianity. Because of his apologetic abilities, Pierson was invited to write five of the major articles. Each booklet was distributed freely to pastors throughout America. This marked the beginning of the Fundamentalist-Modernist Controversy in American churches. Since then, Pierson has often been called the "Father of Fundamentalism."
Some of his best known works include: Many Infallible Proofs: Chapters on the Evidences of Christianity, The Divine Art of Preaching, New Acts of the Apostles, The Bible and Spiritual Criticism and The Bible and Spiritual Life. He was a consulting editor for the original Scofield Reference Bible,1909. After retiring, he continued to preach at churches and conferences at home and abroad until his death in 1911.
Endorsements
A devotional book that rightly stresses the ministry of the Holy Spirit in the work of the early church.