Find this product on Logos.com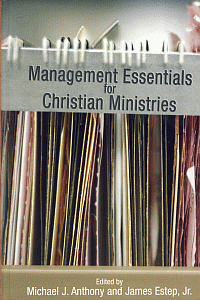 Management Essentials for Christian Ministries
Product Details
Management Essentials for Christian Ministries is a thorough examination of management principles for Christian ministries including churches, denominations, and parachurch organizations. Contributors represent a diverse denominational cross section.
Study of management principles is required coursework for seminary students today. Management Essentials For Christian Ministries represents a thorough treatment of all issues regarding church administration and functions and provides a theological grounding for organizational approaches to church management.
About the Editors

Michael J. Anthony is professor of Christian education at Talbot School of Theology in La Mirada, California. He holds degrees from Biola College (B.A.), Talbot Theological Seminary (M.A.), Golden Gate Seminary (M.R.E.), Southwestern Baptist Theological Seminary (Ph.D.), and Claremont Graduate School (Ph.D.).
James Riley Estep Jr. is professor of Christian education at Lincoln Christian College and Seminary in Lincoln, Illinois. He holds degrees from Cincinnati Christian University (B.A., M.A., M.A., M.Div.), Southern Baptist Theological Seminary (D.Min.), and Trinity Evangelical Divinity School (Ph.D.).