Find this product on Logos.com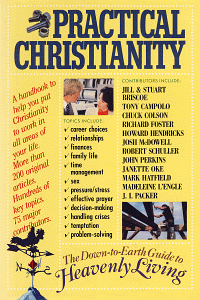 Practical Christianity
Your Handbook for Life
Highlights
A handbook to help you put Christianity to work in all areas of your life
More than 200 original articles
More than 75 Contributors
Product Details
A lot of books tell us why we should become Christians or how to give our lives to Christ.
A lot of books explain the meaning of the Scriptures and the teachings of the church.
But very few books tell us specifically how to live the Christian life. And yet effective Christian living is not the automatic result of a genuine Christian commitment. Many Christians never get the hang of it—consequently, their joy remains incomplete, as does the work of the Kingdom.
Practical Christianity is about being a Christian. In it, a hundred noted Christian writers and speakers talk about all aspects of Christian living—belief and behavior, discipline and emotions, body and soul, church and state, temptations and decisions, friendship and evangelism.
The articles are short; the longest takes no more than ten minutes to read. They are grouped by topic in thirty chapters for easy reference, and an extensive index makes looking for information even easier. Abundant Scripture references anchor all the counsel in the Word of God.
Having Practical Christianity on your bookshelf is like having a hundred good friends offer more than sympathetic ear—they put years of study, experience, and caring at your disposal.
Whether you have followed Christ for a day or for a lifetime, your experience will grow richer as the contributors to Practical Christianity walk by your side.
Some of the contributors include:
Chuck Colson
Richard Foster
Howard Hendricks
Josh McDowell
Robert Schuller
Janette Oak
J.I. Packer
Adrian Rogers
Calvin Miller
Norm Geisler
Robert Webber
R.C. Sproul
James Montgomery Boice
Eugene Peterson
Bill Bright
Dave Veerman
Luis Palau
C.S. Lewis