Find this product on Logos.com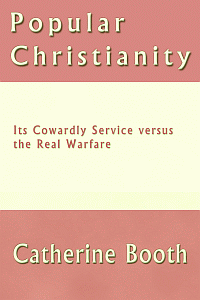 Popular Christianity
Its Cowardly Service versus the Real Warfare
Highlights
From a Wesleyan-Holiness perspective
Product Details
A passionate call to stop 'playing' at Church and start living the 'real' Christ-centered life. If Catherine Booth's words do not stir and challenge a Christian's spirit out from slumber, then not much else will.
About the Author

Catherine Booth was born Catherine Mumford in Ashbourne, Derbyshire, England. From an early age, Catherine was a serious and sensitive girl. She had a strong Christian upbringing, even going so far as to read her Bible through eight times before the age of 12. At age 14, she was seriously ill and spent a great deal of time in bed. She kept herself busy, however, and was especially concerned about the problems of alcohol. She wrote articles for a magazine, which encouraged people not to drink.
Catherine was a member of the local Band of Hope and a supporter of the national Temperance Society. She met William Booth, a Methodist minister, when he came to preach at her church in 1852. They soon fell in love and became engaged. During their three year engagement, Catherine constantly wrote letters of encouragement to William as he performed the tiring work of a preacher. They were married on 16 June 1855 at Stockwell Green Congregational Church in London. Their wedding was very simple, as they wanted to use their time and money for his ministry. Even on their honeymoon, William was asked to speak at meetings.
Catherine began to be more active in the work of the church at Brighouse. Though she was extremely nervous, she enjoyed working with young people and found the courage to speak in children's meetings. At that time, it was unheard of for women to speak in adult meetings. She was convinced that women had an equal right to speak, however, and when the opportunity was given for public testimony at Gateshead, she went forward. It was the beginning of a tremendous ministry, as people were greatly challenged by her preaching. She also spoke to people in their homes, especially to alcoholics, whom she helped to make a new start in life. Often she held cottage meetings for converts.
They began the work of The Christian Mission in 1865. William preached to the poor and ragged and Catherine spoke to the wealthy, gaining support for their financially demanding ministry. She eventually began to hold her own campaigns. When the name was changed in 1878 to The Salvation Army and William Booth became known as the General, Catherine became known as the Mother of the Army. She was behind many of the changes in the new organization, designing the flag and bonnets for the ladies, and contributed to the Army's ideas on many important issues and matters of belief.
The Booths had eight children and were dedicated to giving them a firm Christian knowledge. Two of their offspring, Bramwell and Evangeline, later became Generals of The Salvation Army.
Catherine Booth died at age 61 in Clacton-on-Sea at Crossley house in October of 1890 in William's arms with her family around her. She is interred with her husband in Abney Park Cemetery, London.