Find this product on Logos.com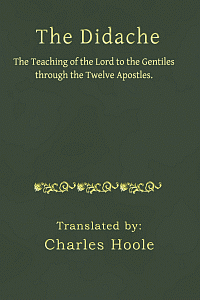 The Didache
The Teaching of the Lord to the Gentiles through the Twelve Apostles.
Product Details
The Didache is, in all probability, the oldest surviving extant piece of non-canonical literature. It is not so much a letter as a handbook for new Christian converts, consisting of instructions derived directly from the teachings of Jesus. The Greek word didache means "teaching." The Didache is the short title of an ancient document that contains some very early Christian doctrines. Although a document of that name is referred to by several ancient writers, it apparently was lost. It was re-discovered in Constantinople in 1875, in a manuscript dated 1056 that also included several other documents either known or referred to as having been written before AD 150.
The Didache claims to have been authored by the twelve apostles. While this is unlikely, the work could be a direct result of the first Apostolic Council, c.50 C.E. (Acts 15:28). Similarities to the Apostolic Decree are apparent, and the given structure of the church is quite primitive. Also, the description of the Eucharist carefully avoids mention of the "body and blood of Christ," obviously being regarded as one of the secret mysteries of eary Christianity. Most scholars agree that the work, in its earliest form, may have circulated as early as the 60's C.E., though additions and modifications may have taken place well into the third century. The work was never officially rejected by the Church, but was excluded from the canon for its lack of literary value.