Find this product on Logos.com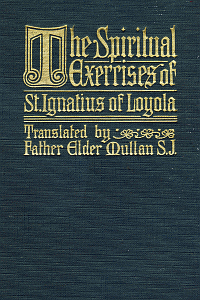 Spiritual Exercises of St. Ignatius of Loyola
Highlights
Translated by Father Elder Mullen S.J.
A true classic of the Catholic faith
Product Details
It is impossible to exaggerate the influence of The Spiritual Exercises of St. Ignatius since its completion in 1535. This masterpiece has long been recognized as a brilliant and inspired guide to the development of a deeper spirituality.
About the Author
Saint Ignatius of Loyola, 1491–1556, was from a Basque noble family. Ignatius was initially a knight, but after his leg was seriously wounded at the Battle of Pamplona in 1521, he underwent a spiritual conversion while in recovery. Ignatius had read De Vita Christi by Ludolph of Saxony which inspired him to abandon his previous lifestyle, to live a life of labour for God following the example of men like Francis of Assisi. He claimed to have seen a vision of the Virgin Mary and baby Jesus at the shrine of Our Lady of Montserrat, while living as a hermit in a cave at nearby Manresa.
He visited the Holy Land with the desire of reconverting the area, but was sent back to Europe by the Franciscans. Ignatius then spent seven years learning theology and Latin, firstly at three universities in Spain and then one in Paris—he arrived in the city at the same time John Calvin was leaving. After gaining a tightly knit association of followers, Ignatius founded the Society of Jesus which received recognition from Pope Paul III. Highly disciplined, the movement's followers learned the Spiritual Exercises and Constitution. Education and self-examination were at the core. At the time of Loyola's death in 1556, there were 1,000 Jesuits organized into eleven units. After his death he was beatified and then on March 12, 1622, was canonized. The feast day of Ignatius is celebrated on July 31—he is the patron saint of soldiers, the Society of Jesus, the Basque Country, the provinces of Guipúzcoa and Biscay, among other things.