Find this product on Logos.com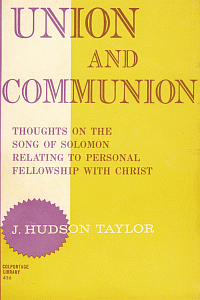 Union and Communion
Thoughts On The Song Of Solomon
Highlights
A Classic Devotional Study on the Song of Solomon
Over 50,000 copies sold
Product Details
One of the abiding legacies of J. Hudson Taylor to the church is this small volume. In simple yet profound imagery, he laid out the deep truth of the Christians personal union with Jesus Christ. The key to understanding the Song of Solomon, he believed, was found in the New Testament in the Incarnate Word.
Taylor divided Song of Solomon into six sections, he explained the significance and symbolism of the speaker in each section and how the mysteries of grace and love are revealed. His insights continue to stir new appreciation of one of the most overlooked and often misunderstood books of the Bible.
About the Author
Dr. James Hudson Taylor was born in 1832 in Yorkshire, England to a Methodist preacher. Dr. Taylor went on to study medicine at the London Hospital. However, unknown to him at the time, his father had long prayed that he would become a missionary to China. A great interest was awakened in China through the Taiping Rebellion, which was then supposed to be a mass movement toward Christianity. This was coupled with exaggerated, but wonderful reports concerning China's accessibility. Taylor went on to found the China Evangelization Society now know as OMF International. At the time of his death in 1905, the ministry included 205 mission stations with over 800 missionaries, and 125,000 Chinese Christians.