Find this product on Logos.com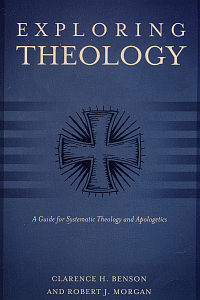 Exploring Theology
A Guide for Systematic Theology and Apologetics
Product Details
The spiritual questions you and your friends ask—about God, the credibility of the Bible, angels, heaven and hell, and even worship and prayer—are important. In fact, understanding your faith depends on finding answers to those questions, answers that work in the real world and that make sense in real conversations.
To start you on your journey of discovery, Exploring Theology begins with God—probing His nature, character, and work, including a helpful explanation of the Trinity. Then, to keep you from getting lost in the swirl of today's ideas, you will find a concise presentation of the twelve basic beliefs that separate Christianity from all other religions. After establishing the groundwork, the authors then examine both the historical and physical evidence for the Christian faith, addressing common questions about Christ's resurrection, creation, fulfilled prophecy, the reliability of the Bible, and the changed lives of believers. Throughout the book, you will also find discussion questions, ideas for applying what you have learned, and further resources to enhance your individual or group study.
About the Authors

Clarence Herbert Benson was born in Minneapolis, Minnesota in 1878. His undergraduate studies were in astronomy at the University of Minnesota and Macalester College. He went on to earn the M.Div. degree from Princeton Theological Seminary in 1908. Benson was ordained as a minister in the Reformed Church in August of 1908. From 1908 to 1919, he pastored five churches in New York and Pennsylvania before being called to an English-speaking church in Kobe, Japan. During his years in Japan (1919 to 1922), Benson additionally taught astronomy in a local college. He began writing magazine articles on astronomy and soon an article written for Moody Bible Institute Monthly gained the interest of MBI president Dr. James Gray. Benson resigned his Kobe pastorate and was offered a position on the MBI faculty by Gray, which he accepted.
Benson was named as the Director of the Christian Education Course at MBI and began serving in the fall of 1922. He designed the curriculum, taught a full course load, and also served as associate editor of Moody Monthly and authored twenty books. He founded the All Bible Graded Series curriculum of Scripture Press and helped found the Evangelical Teacher Training Association of which he later became President. He served as president of ETTA until his death in 1954. His death came as a result of a virus he contracted while on a preaching/teaching trip to Puerto Rico. His body was laid to rest in the city cemetery of Winter Park, Florida.
Robert J. Morgan was born in Elizabethton, Tennessee in 1952. Morgan converted to Christ in childhood and was called to the ministry as a teenager. He attended King College in Tennessee; graduated magna cum laude from Columbia International University in South Carolina.; graduated with high honors from Wheaton Graduate School, with a MA in Christian Education and graduated from Luther Rice Seminary in Georgia, earning his Master of Divinity.
Rob Morgan is the pastor of The Donelson Fellowship in Nashville, Tennessee, where he has served for 29 years. He is a best-selling and Gold-Medallion winning writer with over 20 books in print approaching 2 million in print circulation. He is also a staff writer for Dr. David Jeremiah and Turning Points Magazine, and has many articles published in other leading Christian periodicals. His books have been translated into Spanish, Dutch, Russian, Chinese, Indonesian, and Korean.
Rob has appeared on numerous national television and radio shows, on programs such as Life Today with James and Betty Robison, Prime Time America, Canada's 100 Huntley Street, Janet Parshall's America, Mornings with Lorri & Larry, FamilyNet Television and Radio and A Time for Hope.
Endorsements
Our faith is not a blind leap into the dark but a sensible step into the light. So whether you want to be ready to answer a friend who doubts that Christianity is true or you're looking to resolve lingering doubts, this book offers a solid base from which to take a step of faith and experience the ultimate assurance that comes from knowing—and living—the truth.