Find this product on Logos.com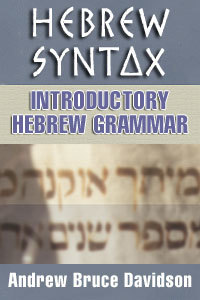 Hebrew Syntax
Introductory Hebrew Grammar
Product Details
Although Davidson's Hebrew Syntax was last revised in 1902, this standard reference is still frequently used in Seminaries and Bible Colleges. It has admirable clearness, precision and teaching quality throughout.
About the Author

Andrew Bruce Davidson was born in 1831 at Kirkhill in Aberdeenshire. After studying at the grammar school in Aberdeen, he attended the university in that city, receiving his M.A. in 1849. For three years he taught in a parish school, learning Hebrew in his spare time. In 1852 he entered New College, Edinburgh (theological school of the Free Church of Scotland), where in 1858 he became assistant to John Duncan, professor of Hebrew. Davidson succeeded Duncan in 1863 and held the post until he died.
Davidson wrote many articles for James Hastings's Dictionary of the Bible. His books include An Introduction to Hebrew Grammar(1874), commentaries on the books of Job (1884); Ezekiel (1892); and Nahum, Habakkuk, and Zephaniah (1896). He was honored by doctorates from Aberdeen and Edinburgh both in 1868 and from Cambridge in 1900. Davidson died, unmarried, on the 26th of January 1902.
Endorsements
Frequently used as an intermediate Hebrew grammar. Valuable in spite of its age.