Find this product on Logos.com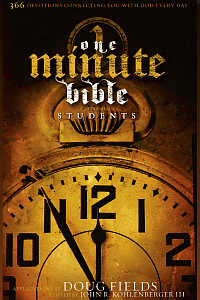 One Minute Bible For Students
366 Devotions for Daily Living
Highlights
Devotionals
Commentary
Theological words defined in simple terms
Personality profiles
Unique, weird, and humorous facts
Product Details
You've committed yourself to more Bible reading plans than you care to admit and you're one hundred and eighty seven chapters behind in your latest attempt. If this sounds familiar, then the One Minute Bible For Students is what you need to get back and stay on track. Do the math. There are 1400 minutes in a day. It will take you one Minute to read a passage of Scripture. "Hey, that's doable!" The One Minute Bible For Students moves you through the entire Bible—from Creation to the return of Jesus—in just ONE YEAR! Additionally, veteran youth pastor Doug Fields has contributed some great insights to help you apply these short, one minute Scripture readings to your every day life.
The One Minute Bible For Students won't replace your Bible. It will inspire you to take side trips into your Bible to see what came before and what comes after the passage you just read. These bite-size servings of Scripture are sure to increase your appetite for God's Word.
Let the feast begin!
About the Author
Doug Fields was born in Denver, Colorado and raised in Orange, California. He earned his Bachelor's degree from Vanguard University and his Master of Divinity degree from Fuller Theological Seminary. He served as a youth pastor at Mariners Church before becoming the Pastor of Student Ministries at Saddleback Church in 1992.
In 2006, Fields changed roles from Saddleback's Pastor of Student Ministries to Pastor of Life Development. He is the founder of SimplyYouthMinistry.com and a frequent speaker at Youth Specialties and other national youth ministry conferences. Fields resides in southern Orange County with his wife, Cathy, and three teenage children, Torie, Cody, and Cassie.