Find this product on Logos.com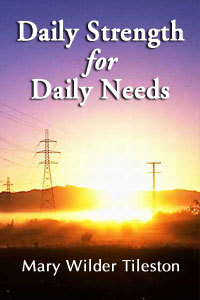 Daily Strength for Daily Needs
Highlights
Features 366 Daily Devotionals
Covers Deuterocanonical books
Product Details
God intends each of His followers to walk with Him each day and experience true communion with Him. This devotional compiled by Mary Wilder Tileston, will guide you each day of the year to a closer walk with God. Featuring some of the most inspirational writers of the day such as Hannah Whitall Smith, William Law, Charles Wesley, George MacDonald, Phillips Brooks, Jeremy Taylor, and many others.
About the Author
Mary Wilder Foote was born in 1843 in Salem Massachusetts. She was the daughter of Caleb Foote, owner and editor of the Salem Gazette, and Mary Wilder who was a devout Unitarian. Mary met and married John Boies Tileston and had seven children. They lived on a milk farm of two hundred acres in Concord, Massachusetts until 1882. They moved to Milton and resided there until her husband death in 1889. Mary decided to travel and she went abroad with her three daughters for a year and returned to Boston where she lived for eight years. She returned to Milton in 1907. Mary was a much celebrated author of many devotionals, she died in 1934.
"This little book of brief selections in prose and verse, with accompanying texts of Scripture, is intended for a daily companion and counselor. These words of the goodly fellowship of wise and holy men of many times, it is hoped may help to strengthen the reader to perform the duties and to bear the burdens of each day with cheerfulness and courage."
Mary Wilder Foote Tileston