Find this product on Logos.com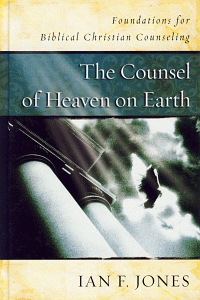 The Counsel of Heaven on Earth
Foundations for Biblical Christian Counseling
Product Details
The Counsel of Heaven on Earth provides a helpful introductory look at the principles of biblical Christian counseling based on models found in the books of Genesis and Isaiah. Among the key topics are "A Fundamental Flaw in All Secular Counseling Theories", "The Counseling Process: Finding the Best Path," and "Jesus the Messiah: The Counselor of Heaven and Earth."
Broadening his audience, Jones also addresses the debate between Christian/integrationist counselors, inviting all professionals to consider his fresh biblical Christian counseling approach.
About the Author
Ian F. Jones, Ph.D., was born in Sydney, Australia. With degrees in sociology, Christian ethics, psychology and counseling, and religion, he now is Professor of Psychology and Counseling, Assistant Dean, Division of Psychology and Counseling, and Director of the Baptist Marriage and Family Counseling Center at Southwestern Theological Seminary in Fort Worth, Texas.
Jones received the Gary Collins Award of Excellence during the 2009 world conference of the American Association of Christian Counselors (AACC) in Nashville, Tennessee. The AACC is an evangelical organization with nearly 50,000 members worldwide.