Find this product on Logos.com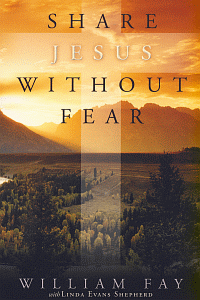 Product Details
In recent years, the Share Jesus without Fear book and its growing family of ancillary products have sparked a faith-sharing movement that continues to gain momentum. It began with the jaw-dropping story of William Fay, once a money-driven businessman with Mafia ties who ran a house of prostitution until it was raided by police. Facing the threat of jail time, Fay turned to Jesus Christ for redemption and ever since has been turning others to Him as well.
Share Jesus without Fear relays Fay's passionate, effective instructions on how to share the love of Christ with anyone—without feeling intimidated on either side of the conversation. Bold and joyful, the outreach movement continues without fear.
About the Authors
William "Bill" Fay was the president and CEO of a multimillion-dollar corporation. Everything about him suggested success. Yet at the same time there was a secret side to Bill Fay: He had ties to the Mafia, was involved in racketeering, bookmaking and gambling, and owned one of the largest houses of prostitution in the United States.
Fay's bio is not common, except in the gossip tabloids, but to hear him tell his story in person is an incredible eye opener to how life can appear to be so under control. He had everything the world said you ought to have, but the world had lied to him and the truth of his reality was about to drastically change his life.
In 1981, Bill Fay's world came crashing in on him. Under investigation, certain his marriage was coming to an end, the pressure was building to an explosive conclusion. Yet Fay was still certain that, at any moment, he could meet the right guy, marry the perfect woman, or put together the right deal and that would solve all his problems.
What Bill Fay discovered was the answer he had ridiculed all his life. Bill was caught by surprise when he discovered what really makes life worth living. Fay turned to Jesus Christ for redemption and ever since has been turning others to Him as well.
Linda Evans Shepherd is an international speaker, radio and television host, leader of Advanced Writers and Speakers Association and Right to the Heart, co-founder of Jubilant Press and publisher of Right to the Heart of Women Ezine. She's authored and coauthored over 20 books including Share Jesus Without Fear and The Pot Luck Club, and soon to come, Be Your Own Prayer Project.
Endorsements
In my 55 years of witnessing for Christ, I have met few believers who were as enthusiastic and effective in their witness for our Lord as Bill Fay. He is a great blessing and inspiration to me.
I have never known anyone who has led more people to the Savior or taught more people to do the same.
This book is the antidote to argumentative and antagonistic approaches to evangelism. The foundation is solidly biblical and the method is refreshingly relational. Bill Fay's passion to share Christ is matched only by the encyclopedic nature of his experience. This book is convincing proof that one-on-one evangelism is 'doable.