Find this product on Logos.com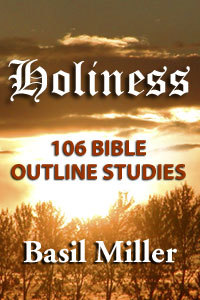 Holiness
106 Bible Outlines Studies
Product Details
Originally published as Bible Readings On Holiness this book offers 106 different subjects each with detailed outlines. Each outline is categorized by general topics: Sanctification, Holiness, The Sanctified, Christian Perfection, God's Holy People, The Baptism with the Holy Spirit, Pentecost and Holiness and Carnality.
About the Author
Basil William Miller was born into a humble home in Laconia, Indiana, February 26, 1897. He moved with his family to American Indian Territory (now Oklahoma) in 1905, and nine years later entered a small Christian college in Greenville, Texas, to earn A.B. and B.D. degrees.
Miller was a minister in the Church of the Nazarene and after pastoring churches in Oklahoma, he was called to teach at Pasadena College in California. He earned a master's degree at the University of Southern California. Further graduate degrees—the M.A., S.T.M., Th.M., S.T.D., and Ph.D.—were earned while he was holding pastorates in San Diego, Pittsburgh, New York City, San Antonio, and Pasadena. He was listed in Who's Who in Religion.
In 1939, Dr. Miller was involved in a serious car accident and suffered a severe brain concussion which kept him bedridden for a year and partially incapacitated for the next four. A heart attack in 1947 further complicated his life. During his convalescence he began a writing career and, over a period of 35 years, produced 200 books and thousands of articles for Christian publications.
When several of his books on missionary themes were published in the 1940s, Dr. Miller received a number of requests for assistance from gospel workers in various nations. As a result of this correspondence, he founded the Basil Miller Foundation in 1950 in Altadena, California. Its name was changed to World-Wide Missions in 1960. World-Wide Missions is an independent interdenominational faith mission based on the principle of national leadership.
World-Wide Missions began with a mailing list of only 200 names, with cramped workspace in the basement of Dr. Miller's home, and with no financial support other than royalties from his books. By the end of the first year, mission work had been established in 20 different countries. That number was to quadruple by the mid-1970s.
Until his death on May 7, 1978, at the age of 81, he was "driven almost beyond endurance with the knowledge that there is so much to do, and so little that I can accomplish." After Dr. Miller's death, World-Wide Missions was led by his daughter, Esther Howard. The headquarters was for many years in Pasadena, California, then briefly in Sierra Madre, and finally was moved to Redlands in 1995.