Find this product on Logos.com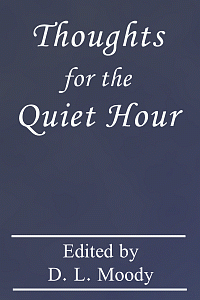 Thoughts for the Quiet Hour
Highlights
Devotional helps compiled by D.L. Moody
Product Details
From the Preface by D.L. Moody:
"One of the brightest signs of the times is that many Christians in our young people's societies and churches are observing a "quiet hour" daily. In this age of rush and activity, we need some special call to go apart and be alone with God for a part of each day. Any man or woman who does this faithfully and earnestly cannot be more than twenty-four hours away from God.
This selection was first published in the monthly issues of the Record of Christian Work and was found very helpful for devotional purposes. It is a mine of thoughts to light up the verses quoted. Being of permanent value, it has been thought desirable to transfer it from the pages of the magazine to this permanent volume.
May it have a helpful ministry, leading many into closer communion with God!"
About the Author
Dwight Lyman Moody was born to parents of modest means in Northfield, Massachusetts on February 5, 1837. At a young age, Moody became familiar with hardship with the passing of his father and his mother's struggle to raise nine children alone. Largely because of such circumstances, Moody left his Northfield home at the age of 17 to seek financial gain in Boston. In Boston, he found the love of Christ and a new passion for souls.
With multiple influences leading him, Moody set out for Chicago with the ambition to make a fortune in worldly wealth and bring lost souls into the kingdom of God. He was successful in both until, in 1860, he felt the call to abandon his pursuit of mammon altogether and devote himself to full-time ministry. After a great soul struggle, Moody did just this.
Moody went on to minister to the poorest children in the Chicago slums of the time, and he received his practical theology training during the Civil War as he ran to and fro ministering to wounded soldiers and trying to bring the healing balm of Christ to any soul sickness found. Equally important to Moody was the work of the YMCA, an organization he devoted countless hours to in teaching the Gospel to the young men of the city, praying with those in need, and raising funds to build facilities.
In 18871, Moody experienced a much desired outpouring of the Holy Spirit, and this very ambitious man learned new lessons in humility, love of God, and submission. After this experience, he traveled to Europe to study the Word, but quickly returned home for his wife and children when he sensed he was being called to Europe to help spearhead a revival. Returning to Europe, Moody and Ira Sankey held countless meetings in England, Scotland, and Ireland preaching the Gospel of Christ and meeting one-on-one with people to share the Word. With Moody's preaching and his living testimony (demonstrated by his kindness towards Catholics, his refusal to take up offerings, his eagerness to exalt others over self, and his love towards those who slandered him), scores of people were transferred from the dominion of darkness to the kingdom of light. His trip to Europe is considered one of the greatest evangelistic enterprises of the 19th century.
The influence of Moody continues to this day with the schools he founded, the church he planted, the publishing house he created, and, perhaps, most importantly, with the legacy of great and humble love for God and man he gave us.
Endorsements
There can be no need for us to commend the living, blazing, speech of our brother Moody. Who can equal him in natural simplicity allaglow with holy passion.