Find this product on Logos.com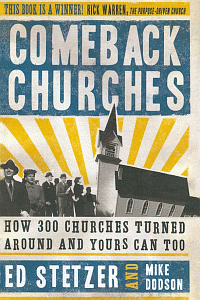 Product Details
Research shows that over time, most churches plateau and then eventually decline. Typically, they start strong and experience periods of growth, then stagnate and lose members. Since 1991, the North American population has increased by 15 percent while the number of "unchurched" people has increased by 92 percent. Large church houses that were filled in the 1950's and 1960's now hold a fraction of their capacity.
To counter this trend, authors Ed Stetzer and Mike Dodson surveyed 300 churches from across ten different denominations that recently achieved healthy evangelistic growth after a significant season of decline. What they have discovered is an exciting method of congregation reinvigoration that is shared in the new book entitled Comeback Churches.
About the Author
Ed Stetzer has served churches for 20 years, he has served as a seminary professor, and now is senior director of the Center for Missional Research at the North American Mission Board where he researches churches and culture for more effective ministry. He holds two Masters degrees and has written dozens of articles and books including Breaking the Missional Code: Your Church Can Become a Missionary in Your Community, and Planting Missional Churches: Planting a Church that's Biblically Sound and Reaching People in Culture.
Endorsements
Ed Stetzer is one of the best-informed, practical minded, and field-tested Church planters that I know.