Find this product on Logos.com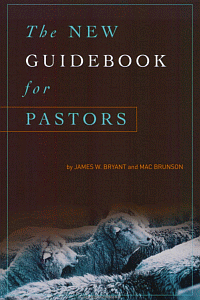 The New Guidebook for Pastors
Highlights
Written in the same tradition of W.A. Criswell original masterpiece for pastors
Product Details
The New Guidebook for Pastors is written in the tradition of classics like Criswell's Guidebook for Pastors. But since most pastoral guidebooks available today date back to 1980 or earlier, this new resource by Mac Brunson and James W. Bryant will offer fresh experience-based encouragement to all pastors in their pursuit of excellence and development in their God-called profession.
Among the twenty chapters are: "The Pastor and His Call," "The Pastor and His Family," "The Pastor and His Staff," "The Pastor and Worship," "The Pastor and Finances," "The Pastor, Wedding, and Funerals," "The Pastor, Politics, and Moral Issues," and "The Pastor and His Denomination."
About the Authors
Dr. Mac Brunson holds degrees from Furman University and Southwestern Seminary. Dr. Brunson pastored in South Carolina, Virginia, North Carolina and Texas before going to Jacksonville in 2006. Presently he is the Senior Pastor of First Baptist Church in Jacksonville, Florida.
As a well-known speaker and experienced minister, Mac was appointed president of the Southern Baptist Convention Pastor's Conference in 2003. He is heard on numerous radio and television stations around the world weekly. Committed to missions, the Brunsons have taken trips to Argentina, England, Lebanon, Russia and to the Ukraine.
Dr. James W. Bryant received a Bachelor of Arts degree, with honors, from Wheaton College in Wheaton, Illinois. He also holds the Master of Divinity and Doctor of Theology degrees from Southwestern Baptist Theological Seminary in Fort Worth, Texas. In 1999, The Criswell College awarded him the honorary degree, Doctor of Divinity.
Bryant has been preaching the Gospel since he was sixteen years old. He served for five years at the First Baptist Church in Dallas, Texas, as Minister of Evangelism and Church Organization. During that time, Dr. Bryant became the Founding Dean of the Criswell Bible Institute. For almost forty years, he has served churches in the Southern Baptist Convention. His pastorates include Hoffmantown Baptist Church in New Mexico; Sagamore Hill Baptist Church in Texas; and the Grand Avenue Baptist Church in Arkansas.
From 1991 to 1993, he was the Executive Vice President, then President of the Luther Rice Seminary in Atlanta. From 1993 to 2002, Dr. Bryant taught at the University of Mobile's School of Religion in Mobile, Alabama, where he held the rank, Professor of Religion. In August of 2002, Dr. Bryant became the Vice President for Academic Affairs at the Criswell College in Dallas, Texas. Since August of 2004, he has served teaching full-time as Senior Professor of Pastoral Theology.
Endorsements
The New Guidebook for Pastors by Dr. James W. Bryant and Dr. Mac Brunson provides a well-spring of fresh encouragement for those pursuing the high and holy calling to preach the Word. In the pages of this book the pastor will find helpful information and heavenly inspiration. These two men of God share their experience, education and enthusiasm for the ministry of the Gospel with the reader. I highly recommend it!