Find this product on Logos.com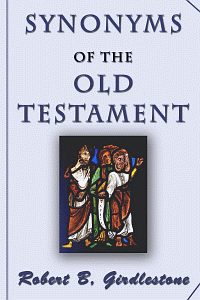 Synonyms of the Old Testament
Their Bearing on Christian Doctrine
Highlights
Often paired with Richard Chenevix Trench's Synonyms of the New Testament
Keyed to Strong's numbering system
Quoted by many standard reference works
All words are transliterated
Named as one of the 850 Books for Biblical Expositors by the Master's Seminary
Product Details
Explore meanings of key terms from the Old Testament with Girdlestone's Synonyms of the Old Testament. This classic reference tool provides over 300 accurate, thorough definitions to enhance any word study.
About the Author
Robert Baker Girdlestone, M.A.,(1836-1923) served as the head of the translation department of the British and Foreign Bible Society, the principal of Wycliffe Hall at Oxford, Honorary Canon of Christ Church and as a minister of St. John's Downshire Hall.
Endorsements
Sets forth the bearing of some Old Testament words on Christian Doctrine.