Find this product on Logos.com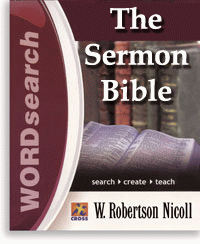 The Sermon Bible (12 Volumes)
Highlights
This Series gives, in convenient form, the essence of the best homiletic
literature of the early 20th century
A classic treasured by knowledgeable preachers for over 100 years
Conservative in Theology, skillful in condensation
Many thought-provoking sermon suggestions
Almost 5000 Sermon Outlines
Product Details
This twelve-volume Old and New Testament commentary offers rich exposition, helpful insights, and nuggets of illustration.
Under Every Text Will Be Given:
Outlines of important sermons by eminent preachers existing only in manuscripts or periodicals, and thus inaccessible
Less full outlines of sermons which have appeared in volumes which are not well known or easily obtained
References to or very brief outlines of sermons which appear in popular volumes such as likely to be in a preacher's library
Full references to theological treatises, commentaries, etc., where any help is given to the elucidation of the text
Volumes Include:
Genesis to 2 Samuel
1 Kings to Psalm 76
Psalm 77 to Song of Solomon
Isaiah to Malachi
Matthew 1 to Matthew 21
Matthew 22 to Mark
Luke to John 3
John 4 to Acts 6
Acts 7 to 1 Corinthians
2 Corinthians to Philippians
Colossians to James
1 Peter to Revelation
About the Editor
Sir William Robertson Nicoll was an ordained minister of the Free Church at Dufftown, Banffshire. In 1886 he moved south to London and began his editorship of The Expositor and the British Weekly, posts which he held for the rest of his life. He made the British Weekly widely influential, published several religious and secular books, was knighted in 1909, and was made a member of the prestigious Order of the Companions of Honour two years before his death in 1923.
Nicoll was a prolific editor of expository works and left behind a literary legacy that has placed all preachers in his debt. This scholar is rightly remembered for such works as The Expositor's Bible, The Expositor's Dictionary of Texts, The Sermon Bible, Expositor's Greek Testament, all of which he edited.
Endorsements
A very complete guide to the sermon literature of the day.
We do not hesitate to pronounce this the most practical useful work of its kind at present extant. It is not a commentary, but a Thesaurus of sermons on texts arranged consecutively, chapter by chapter and book after book... We are bound to say that the object announced by the compilers is on the way to be realised, and here will be given the essence of the best homiletic literature of this generation.