Find this product on Logos.com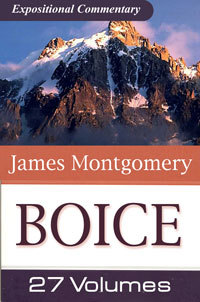 Boice Expositional Commentaries
27 Volume Set
Highlights
Features 27 volumes covering parts of the Old and New Testaments
Offers clear language and approachable style
Extremely thorough commentary
Can be used for preaching, teaching, and devotional reading
Contemporary insight for daily living
Product Details
A reformed theologian and pastor, Dr. James Montgomery Boice was known for combining careful scholarship with clear, personal communication. Boice Expositional Commentaries is a collection of 27 volumes filled with his thoughtful interpretation and contemporary insight for daily living. Perfect for anyone who is interested in studying the Bible, Boice Expositional Commentaries can be used for preaching, teaching, and devotional reading.
Boice's work is extremely thorough, and this translates into saving your time in research. Taking the Bible verse-by-verse or section-by-section, he explains what the text means while relating it to the world and church today. For example, his commentary on Genesis (which is 50 chapters) is three volumes with 180 chapters. His commentary on the Gospel of Matthew is two volumes with an additional volume solely dedicated to the Sermon on the Mount.
This diligence will save you time and provide you with insights that will surprise you. In addition to his own explanations, he quotes other helpful scholars, including J.I. Packer, H.C. Leupold, Leslie C. Allen, Alexander Maclaren, Arthur W. Pink, A.W. Tozer, Roy Clements, and more.
Even though Boice passed away before completing his commentary on all of Scripture, you'll find this series represents some of the most preached and taught books of the Bible.
The 27 volumes of Boice Expositional Commentaries include:
Genesis (three vols.)
Joshua
Nehemiah
Psalms (three vols.)
Daniel
The Minor Prophets (two vols.)
Gospel of Matthew (two vols.)
Sermon on the Mount
Gospel of John (five vols.)
Acts
Romans (four vols.)
Ephesians
Philippians
Epistles of John
About the Author
Dr. James Montgomery Boice (1938-2000) was a reformed theologian and senior pastor of the Tenth Presbyterian Church in Philadelphia, Pennsylvania for 32 years. A graduate of Harvard University and Princeton Theological Seminary, he also received his doctorate in theology from the University of Basel in Switzerland. He was also the founder of the International Council on Biblical Inerrancy and was Chairman, president and co-founder of the Alliance of Confessing Evangelicals, and author of more than sixty books.
Endorsements
Dr. Boice's commentary series is a treasure for the church and for her pastors. No expository preacher can afford to be without it.
This highly useful, strongly inspirational set of commentaries could easily keep a preacher's sermons or Bible student's studies in the Gospel of John for a couple of years. Boice writes with a pastor's heart in a highly readable style. . . . a work of excellence that should be of great help to Bible expositors and lay people alike.
Expositions that unfold the dimensions of the sermon and relating its messages to modern living