Find this product on Logos.com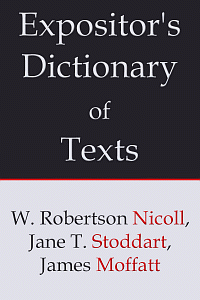 Expositor's Dictionary of Texts
Highlights
Preach through the whole Bible with outlines, illustrations and expositions
If you loved The Sermon Bible, you'll want this work!
Originally published in 1910
Product Details
The Expositor's Dictionary of Texts
is a set that has "outlines, expositions, and illustrations of Bible texts, with full references to the best homiletic literature." The texts include expositions arranged in canonical order. The expositions are brief and suggestive, and each is clearly outlined. Most are concluded with references to classic sermons on the text.
About the Editors
Sir William Robertson Nicoll was an ordained minister of the Free Church at Dufftown, Banffshire. In 1886 he moved south to London and began his editorship of The Expositor and the British Weekly, posts which he held for the rest of his life. He made the British Weekly widely influential, published several religious and secular books, was knighted in 1909, and was made a companion of honor (a prestigious order) two years before his death in 1923.
Nicoll was a prolific editor of expository works and left behind a literary legacy that has placed all preachers in his debt. This scholar is rightly remembered for such works as The Expositor's Bible, The Expositor's Dictionary of Texts, The Sermon Bible, and the Expositor's Greek Testament, all of which he edited.
James Moffatt was born in 1879 in Glasgow. He was educated at Glasgow University and the Free Church college. Moffatt was a practicing minister before becoming Professor of Greek and New Testament Exegesis at Mansfield College, Oxford in 1911. He returned to Glasgow in 1915 as Professor of Church History at the United Free Church College. From 1927-1939 he was Washburn Professor of Church History at the Union Theological Seminary, New York. Moffatt later served as executive secretary of the committee of translators for the Revised Standard Version. Moffatt passed away in the winter of 1944.