Find this product on Logos.com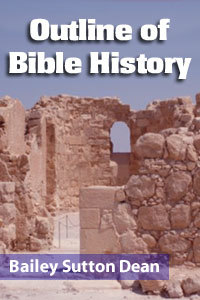 Highlights
A survey of Bible history
Widely used as a text book
Product Details
Outline of Bible History was originally prepared as notes based on lectures to advanced preparatory students at Hiram College.
This work is far more than a bare analysis of the Bible, rather it is an in-depth outline of Bible history. It offers succinct comments, charts and maps.
About the Author
Bailey Sutton Dean (1845-1919) was a member of the founding faculty at Hiram College. He was a minister and a professor of English and History at Hiram College from 1882-1915. He wrote several books on the history of the Bible including the Outline of Bible History and A Syllabus of Apostolic History.