Find this product on Logos.com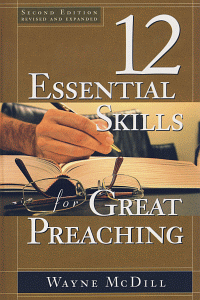 The 12 Essential Skills for Great Preaching
Second Edition Revised and Expanded
Product Details
In this newly expanded second edition of 12 Essential Skills for Great Preaching, Dr. Wayne McDill draws on decades of experience as a preacher and homiletics professor to inspire other preachers to live up to their God-given potential.
Here are twelve proven ways to pack more content and effectiveness into every sermon, covering all of the bases from general preparation to the end result of increasing each listener's faith. Recent seminary graduates and seasoned pastors alike will identify skills that need personal improvement, and McDill encourages them to strengthen such areas at their own pace and in whatever order they feel is best. Also included are additional worksheet helps and sermon examples.
Diagramming the Text Structure
Noting the Text Details
Asking Research Questions
Naming the Text Idea
Bridging from the Text to the Sermon
Writing Sermon Divisions
Balancing Persuasive Elements
Exploring Natural Analogies
Drawing Pictures, Telling Stories
Touching Human Experience
Aiming for a Faith Response
Planning for the Oral Presentation
About the Author
Wayne McDill earned his B.A. at East Texas Baptist College; his M.Div. and Th.D. degree from Southwestern Baptist Theological Seminary. He is active in the Academy of Homiletics and Evangelical Theological Society. McDill has been teaching at Southeastern Baptist Theological Seminary since 1989 and is Senior Professor of Preaching at Southeastern Baptist Theological Seminary. He has nearly twenty years of experience in teaching students the art of preaching. McDill has authored four books including the 1994 release The Twelve Essential Skills of Great Preaching. He resides in Wake Forest, North Carolina.