Find this product on Logos.com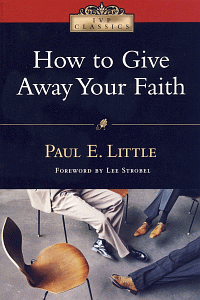 How to Give Away Your Faith
Highlights
Help for sharing the gospel among your friends, family, coworkers
Product Details
"So you want to witness! I did too, but I didn't have a clue about how to do it without stubbing my toe in the process." So begins the book that has helped a million people give their faith to others. Paul Little's humor and down-to-earth approach help to show how friendly and natural evangelism can really be.
"Impossible!" you say? "I just don't know what I'd tell people. What if I can't answer their questions? And what if they think I'm just strange?" Paul Little has faced these same fears himself and has found effective and biblical ways to overcome them.
This edition, thoroughly revised by Marie Little, brings all these issues up to date and adds practical suggestions from several of Paul Little's lectures. It also includes a study guide for individuals or groups.
Now, more than ever, here is the book to excite you and equip you to give away your faith.
About the Author
Paul E. Little and his wife, Marie, worked for twenty-five years with InterVarsity Christian Fellowship until his death in 1975. Little was also associate professor of evangelism at Trinity Evangelical Divinity School in Deerfield, Illinois. He was the author of several books and articles, including Know Why You Believe, Affirming the Will of God and How to Give Away Your Faith.
Endorsements
I have deeply admired [Paul Little} as a man of God with Extraordinary insights into the work of God and boundless enthusiasm for communicating the Word of God