Find this product on Logos.com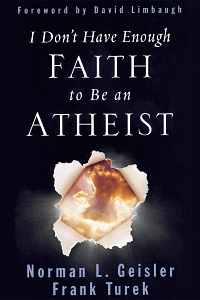 I Don't Have Enough Faith to Be an Atheist
Highlights
Readable, non-technical, engaging style
Product Details
I Don't Have Enough Faith to Be an Atheist argues that Christianity requires the least faith of all worldviews because it is the most reasonable. The authors lay out the evidence for truth, God, and the Bible in logical order and in a readable, non-technical, engaging style. A valuable aid to those interested in examining the reasonableness of the Christian faith, Geisler and Turek provide a firm challenge to the prior beliefs of doubters and skeptics.
About the Authors

Norman L. Geisler earned his Ph.D. at Loyola University of Chicago. He is a co-founder and former dean of Southern Evangelical Seminary. Geisler is the author/co-author of some seventy books and hundreds of articles. He has taught theology, philosophy, and apologetics on the college and graduate level for fifty years. He has been a professor at some of the top Seminaries in the United States, including Trinity Evangelical and Dallas Seminary, and has been a guest at numerous other schools. Geisler has spoken in over twenty six countries on six continents. He and his wife Barbara live in the Charlotte, North Carolina area. He maintains an active writing, speaking, and lecturing ministry across the country.
Frank Turek holds two Master's degrees and is pursuing a doctorate in apologetics at Southern Evangelical Seminary, where he serves as vice president. He has appeared on numerous television and radio programs including The O'Reilly Factor, Hannity and Colmes, and Politically Incorrect. His first book, Legislating Morality: Is It Wise? Is It Legal? Is It Possible? (co-authored with Norman Geisler) won the Evangelical Christian Publishers Association's Gold Medallion award as the best book in its category.
Endorsements
I wish [this book] had been available when I was an atheist, it would have saved a lot of time in my spiritual journey toward God!